News story
Safety bulletin published for the Love for Lydia investigation
Warning issued about the dangers of carbon monoxide poisoning on boats after the death of holidaymakers on the Norfolk Broads.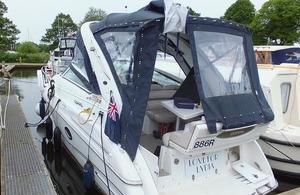 Today the MAIB has published a safety bulletin after the carbon monoxide poisoning on board the Doral 250 SE motor cruiser Love for Lydia at Wroxham on the Norfolk Broads between 6 and 9 June 2016 resulted in 2 fatalities.
The safety bulletin highlights the dangers of carbon monoxide on boats and calls for people to fit carbon monoxide alarms, similar to those used in caravans and homes. Read the bulletin.
MAIB Chief Inspector Steve Clinch said:
Carbon monoxide alarms are commonplace in our homes and in caravans, but the tragic deaths of a couple and their dog on Love for Lydia are a reminder of the dangers of carbon monoxide on boats.

This is the third double fatality due to carbon monoxide poisoning that we have investigated in around three years.

There are many sources of carbon monoxide on boats including engines, generators, solid fuel burners and cookers. Canopies on deck can allow poisonous gases to build up, quickly reaching fatal levels. Ventilation is essential.

Carbon monoxide is a silent killer with symptoms similar to colds and flu. If carbon monoxide is suspected, it is important to stop the source, get to fresh air and seek medical attention. A carbon monoxide alarm could save your life.
A video highlighted these dangers has also been produced by MAIB:
MAIB Carbon Monoxide Warning Video
Press enquiries
Press enquiries during office hours 01932 440015
Press enquiries out of hours 020 7944 4292
Published 9 August 2016