News story
Safe sex reminder as antibiotic resistant gonorrhoea investigations continue
Public Health England (PHE) is issuing a reminder to the public to practise safe sex by using a condom with new or casual partners.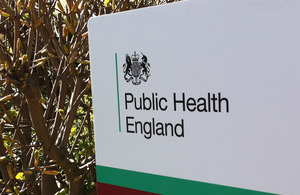 The call comes as an increase in antibiotic resistant cases of gonorrhoea continues, a further sign of the very real threat of antibiotic resistance to our ability to treat infections.
PHE continues to monitor and investigate gonorrhoea cases that are highly resistant to the antibiotic 'azithromycin'. Cases first emerged in the north of England in November 2014. Microbiologists and sexual health doctors in England are being notified that since September 2015 further cases have been confirmed in the West Midlands and in the South of England.
This takes the total number of cases confirmed in England, between November 2014 and April 2016, to 34.
The current outbreak strain remains sensitive to the other drug used in first line therapy, ceftriaxone, meaning this drug is effective in treating these cases. However, if azithromycin becomes ineffective against gonorrhoea, there is no 'second lock' to prevent or delay the emergence of ceftriaxone resistance, and gonorrhoea may become untreatable. The recent increase shows the very real threat of antibiotic resistance, and the importance of monitoring resistance to maintain treatment options, and promoting safe sex to prevent gonorrhoea.
Dr Gwenda Hughes, Consultant Scientist and Head of the Sexually Transmitted Infections (STI) Section at PHE, said:
We continue to maintain an enhanced level of surveillance to identify and manage cases of high-level azithromycin resistant gonorrhoea. Since September 2015, 11 cases have been confirmed in the West Midlands and in the South of England, 5 of which were in London. Cases to date have been confirmed in both heterosexual men and women and in men who have sex with men.

Fortunately, the current outbreak strain can still be treated with ceftriaxone. Nonetheless, we know that the bacterium that causes gonorrhoea can rapidly develop resistance to other antibiotics that are used for treatment, so we cannot afford to be complacent. If strains of gonorrhoea emerge that are resistant to both azithromycin and ceftriaxone treatment options would be limited as there is currently no new antibiotic available to treat the infection.

It would be far better to avoid getting or passing on gonorrhoea in the first place. Everyone can significantly reduce their risk by using condoms with all new and casual partners.

PHE will continue to monitor, and act on, the spread of antimicrobial resistance and potential gonorrhoea treatment failures, to make sure they are identified and managed promptly. It is important that clinicians treating patients with gonorrhoea follow the national guidance.
As with any STI, to avoid getting gonorrhoea always use a condom when having sex with new or casual partners. Getting tested regularly for STIs can lead to early identification and treatment, as often these infections have no symptoms. In addition, reducing the number of sexual partners and avoiding overlapping sexual relationships can reduce the risk of becoming infected. If you have put yourself at risk of any STI, it is always best to seek advice from your local sexual health clinic.
Public Health England exists to protect and improve the nation's health and wellbeing, and reduce health inequalities. It does this through world-class science, knowledge and intelligence, advocacy, partnerships and the delivery of specialist public health services. PHE is an operationally autonomous executive agency of the Department of Health. Twitter: @PHE_uk, Facebook: www.facebook.com/PublicHealthEngland.
Out of hours telephone 020 8200 4400
Published 17 April 2016