Safe rooms help stop domestic violence victims becoming homeless
New research and statistics published today show that whilst domestic violence is one the major reasons families become homeless, protection…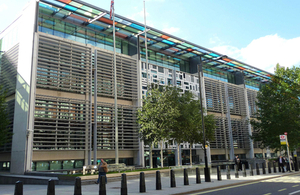 New research and statistics published today show that whilst domestic violence is one the major reasons families become homeless, protection measures such as safe rooms are very effective in helping these families to safely stay in their homes.
Under what are known as 'Sanctuary Schemes', victims of domestic violence have special security measures installed to keep families safe in their own homes in case the aggressor tries to return. Depending on the specific needs of the family at risk, this might mean creating a safe room in the house which is secured using a reinforced door which opens outwards so an intruder can't kick-it in. 
In other cases, councils and the police might install video entry systems and alarms which automatically alert the nearest police station ensuring a rapid response. These security measures combined with other essential support from specialist domestic violence service providers have proved crucial in keeping households safe.
The research by the University of York shows that Sanctuary Schemes, supported by other agencies, such as the police and local councils, have been hugely successful in helping families stay safe in their own homes. This often means families avoid the upheaval of having to leave their home and support networks and the risk of becoming homeless.
Statistics also released today show that in 2009 there were over 5,000 cases that were prevented from becoming homeless home thanks to the protection of a sanctuary scheme.
As a result, new guidance has also been published to help councils, the police and other partners make sure that the Sanctuary Schemes they run best meet the needs of domestic violence victims.
Welcoming the research and guidance Housing Minister Grant Shapps said:
No one should be driven from their home and left homeless because of a violent family member. This research shows that the effective and practical help Sanctuary Schemes provide can help stop victims of domestic violence becoming victims of homelessness too.

By providing at risk families with the support and safety measures they need, we can help them avoid the upheaval of having to leave their homes and support networks and help them get their lives back on track.

What matters is what works and that's why I'm bringing together Ministers from 8 different Government departments so that we can make sure that in areas such as domestic violence, we're working together across different public services to find the best practical solutions for people.
The new research has been welcomed by prominent domestic violence organisations Women's Aid and AVA (Against Violence and Abuse).
Chief Executive for Women's Aid, Nicola Harwin CBE, said:
Women's Aid warmly welcomes the findings and recommendations of the research, as we know that Sanctuary Schemes can provide practical protection for survivors of domestic violence who wish to remain in their own homes. However, this needs to be offered together with other options including alternatives such as refuge accommodation and risk assessments need to take place in every case to decide if a Sanctuary Scheme is appropriate and safe.

With two women being killed every week in England and Wales by their partner or ex-partner, it is vital that the safety of the abused woman and any children must remain the absolute priority at all times.
Director of Against Violence and Abuse, Davina James-Hanman said:
AVA very much welcomes this research which provides us much needed national data on sanctuary schemes. More importantly, we hope the findings will demonstrate to those local authorities that are not currently offering this service that they are missing a trick since the evidence proves that they could provide increased accommodation choices for domestic violence victims whilst also saving money.
The homelessness prevention statistics published today also show that over the past year councils have successfully stopped over 140,000 households and individuals from becoming homeless. Many of these have been helped to find alternative accommodation, often a privately rented home. In other cases, families were able to stay in their current home thanks to help from their council with rent or mortgage arrears or family mediators.
Homelessness is a key priority for the Coalition Government and the Prime Minister has asked Grant Shapps to bring together Ministers from 8 Government departments to work closely together to look at ways their respective policies and frontline services can tackle the multi-faceted issues that contribute to homelessness.
Notes to editors
The research was carried out by Anwen Jones, Joanne Bretherton, Roger Bowles and Karen Croucher, University of York. The research involved interviews with national stakeholders, local case studies (interviews with service providers, support providers, local stakeholders, and service users), and a cost-benefit analysis.
2. The research report and summary The effectiveness of schemes to enable households at risk of domestic violence to remain in their own homes and the good practice guide Sanctuary Schemes for Households at Risk of Domestic Violence: Practice Guide for Agencies Developing and Delivering Sanctuary Schemes are available at:
3. The Statistical Release Homelessness Prevention and Relief: England 2009/10 is available at: www.communities.gov.uk/publications/corporate/statistics/homelessnessprevention200910.
Twitter
Keep up to date with the Department by following us on Twitter (external link).
Media enquiries
Visit our newsroom contacts page for media enquiry contact details.
Published 26 August 2010