Press release
UK and UAE discuss opportunities in the sustainability sector
UK Trade & Investment organizes a bespoke event in Dubai for senior officials and professionals operating in the sustainability sector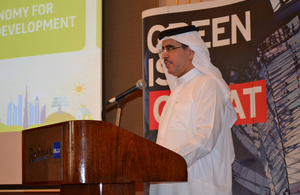 UK Trade & Investment (UKTI), the international business development arm of the British Government, organized a bespoke event today at the Radisson Blu Hotel in Dubai for senior officials and professionals who are operating in the sustainability sector.
The keynote speaker at the event was His Excellency Saeed Mohammed Ahmed Al Tayer, Vice Chairman of Dubai Supreme Council of Energy and Managing Director and CEO of Dubai Electricity and Water Authority (DEWA).
Her Majesty's Consul General to Dubai and the Northern Emirates, Edward Hobart, also spoke at the event.
The event was attended by more than 70 professionals from the design, engineering, sustainability, environmental, infrastructure and waste management sectors in the UAE.
Speaking at the event, His Excellency Saeed Mohammed Ahmed Al Tayer, said:
His Highness Sheikh Mohammed bin Rashid Al Maktoum, Vice President and Prime Minister of the UAE and Ruler of Dubai, launched the UAE strategy for green development in the form of a long-term national initiative aiming to build a green economy in the UAE under the theme of "Green Economy For Sustainable Development". Accordingly, sustainability has become a key objective and has gathered global attention as it addresses holistically the social progress, environmental stewardship, and economic prosperity aspects. Building Green Future is part of the broad concept of sustainability as stipulated in the UAE Vision and Strategy 2021 and also in the 2021 Dubai Plan.
Her Majesty's Consul General Edward Hobart said:
Ensuring that we manage our resources sustainably is a challenge for the whole world. The need for innovation has never been more important as we look to develop and adopt technologies and approaches to achieve this. The UK was one of the first countries in the world to adopt Waste to Energy technology and has some of the oldest functioning plants. It is also in the forefront of developing newer technologies such as plasma and gasification to deal with huge amounts of mixed waste. A large number of UK companies are working successfully in this area in Dubai and Sharjah.

Given our experience of delivering world class events like the Olympics, and as home to many world class cities, the UK is well positioned to support Dubai in delivering both Expo in 2020 and its "Smart City Project" launched in 2013 by His Highness Sheikh Mohammed bin Rashid Al Maktoum, Vice President and Prime Minister of the UAE and Ruler of Dubai.
Ideas on the future of green buildings and sustainability and on waste to energy and water management were exchanged during the two panel discussions that took place at event.
The event is part of the new campaign, Grown in Britain, aiming to promote and encourage innovation from agri-tech and sustainability, to creative industries, healthcare and life sciences. Milan Expo is the catalyst for this campaign. A series of events will take place from June 15 till June 19 at UK Pavilion in Milan Expo focussing on smart cities, environment, innovation and water management.
Beyond Milan Expo 2015, a number of events will take place around the world until 2020 to highlight the key challenges and opportunities in delivering a sustainable future. Grown in Britain: Global Business Programme begins with the milestone of Milan Expo and will continue at the Rugby World Cup 2015 in the UK, Rio 2016 Olympic and Paralympic Games and to Expo 2020 Dubai.
Notes to Editors:
Photo: His Excellency Saeed Al Tayer while addressing British companies in Dubai today.

UK Trade & Investment is the Government Department that helps UK-based companies succeed in the global economy. We also help overseas companies bring their high quality investment to the UK's economy – acknowledged as Europe's best place from which to succeed in global business. UKTI offers expertise and contacts through its extensive network of specialists in the UK, and in British embassies and other diplomatic offices around the world. We provide companies with the tools they require to be competitive on the world stage. For more information on UKTI, visit www.gov.uk/ukti.
Contact
Sam Kelly
Tel: +971 4 309 4444
Published 9 June 2015