Press release
Russian Ambassador summoned to FCO over escalating tensions in Ukraine
The Russian Ambassador to the UK, Alexander Vladimirovich Yakovenko, was summoned to the Foreign and Commonwealth Office this evening, 1 March.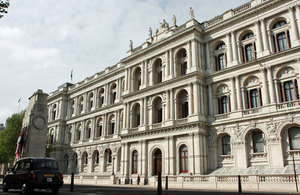 At the request of the Foreign Secretary, the Russian Ambassador was summoned to the Foreign Office this evening to meet Political Director Simon Gass. The Political Director expressed deep concern at the Russian Parliament's decision to authorise military action in Ukraine against the wishes of the Ukrainian government.
The Political Director asked the Ambassador to urge his government to respect the sovereignty, independence and territorial integrity of Ukraine. The Foreign Secretary will travel to Kyiv tomorrow.
Further information
Follow the Foreign Secretary on twitter @WilliamJHague
Follow the Foreign Office on twitter @foreignoffice
Follow the Foreign Office on facebook and Google+
Published 1 March 2014