Russia: UK responds to French and German statement on the poisoning of Alexey Navalny
The Foreign Secretary has responded to a statement by France and Germany following further verification that novichok was used to poison Alexey Navalny.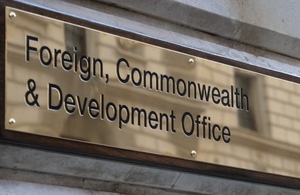 Foreign Secretary Dominic Raab welcomed the joint statement, saying:
On 6 October, the Organisation for the Prohibition of Chemical Weapons confirmed the findings from previous laboratory tests, that Alexey Navalny was poisoned by a military nerve agent of the Novichok group, developed by Russia. The evidence is undeniable. The UK stands side by side with our German and French partners in our response to the abhorrent poisoning of Alexey Navalny.

Despite having a clear case to answer, the Russian authorities continue to make no credible attempt to investigate this attack. There is no plausible explanation for Mr Navalny's poisoning other than Russian involvement and responsibility for this appalling attack.

We will work together with our international partners to take forward sanctions targeting Russian officials and others who are considered responsible for this crime as well those involved in the development of the Novichok chemical weapon programme.

We will continue to work with the OPCW and all of our international partners to uphold the Chemical Weapons Convention and to hold Russia to account.
Media enquiries
Contact the FCDO Communication Team via email (monitored 24 hours a day) in the first instance, and we will respond as soon as possible.
Published 7 October 2020