Rural councils need to think outside the box to deliver homes on the farm
Communities Minister Andrew Stunell has today called on farmers and rural councils to "think outside the box" to deliver more affordable housing…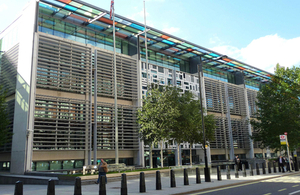 Communities Minister Andrew Stunell has today called on farmers and rural councils to "think outside the box" to deliver more affordable housing.
The average house price in rural areas is £250,000, yet the average salary is only £21,000 a year, meaning many local people struggle to get on the housing ladder. Mr Stunell wants to see farmers identify disused farm buildings that could be converted into new affordable homes for local people, and wants councils to look favourably on their planning applications.
Mr Stunell highlighted a scheme run by Harrogate Borough Council that requires developers to make provision on the site for affordable housing, resulting in 34 extra affordable homes across 19 sites.
Mr Stunell believes that other rural councils can learn from Harrogate's example, and wants to see other councils work with their communities to deliver the homes they need.
Harrogate's approach is in the spirit of the "Home on the Farm" idea, championed by Mr Stunell, which promotes conversion of disused farm buildings into new homes.
Andrew Stunell said:
Councils and rural communities need to think innovatively and outside the box to make sure they deliver the homes they need.

The work by Harrogate Borough Council shows what can be done when a local authority thinks imaginatively about its affordable housing needs, and uses all the powers they have at their disposal.

And with the measures announced in the Housing Strategy, the New Homes Bonus, FirstBuy, plus Neighbourhood Plans on the way from April 2012, the Coalition is making sure that councils have even more tools to get the job done.

I'd like to congratulate Harrogate, and call on other rural councils to look at their example, and see what else they can do to work with local farmers and their communities to convert their disused buildings and deliver a home on the farm.
Councillor Jean Butterfield, Cabinet Member for Housing, said:
This is the most practical way of implementing the rural building conversion policy so that we can help bring redundant buildings back into use as much-needed homes. Barn conversions can make extremely large high-value houses. Our policy encourages a more flexible way of looking at these buildings, creating more types and size of house including affordable homes for local people.

A total of 34 affordable homes associated with rural building conversions have been delivered on 19 sites and we currently have four more under way. Every rural affordable home added to our stock is desperately needed and helps local people to stay in communities where they work or where they grew up.
Notes to editors
Harrogate Borough Council's Discounted Home Ownership scheme allows the purchaser to buy at a discount of 65 per cent of the market value which is then protected in perpetuity.

As an example, Wilstrop Lodge Farm built two large units at market value and two smaller, affordable units. The market value homes sold for £500,000. The affordable homes sold at the discounted sale price of £60,000.

The average rural house price is now £250,000 and the average salary only £21,000.

Separately, the Government has announced as part of the Autumn statement, that it intends to consult on proposals to allow existing agricultural buildings to be used for other business purposes, such as offices, leisure and retail space, to make it easier for rural business to find the premises they need to expand.
Twitter
Keep up to date with the Department by following us on Twitter (external link).
Media enquiries
Visit our newsroom contacts page for media enquiry contact details.
Published 30 November 2011