Runaway of trolleys and near-miss at Raven level crossing
Investigation into an incident at Raven level crossing, Garnant, Carmarthenshire, 1 November 2014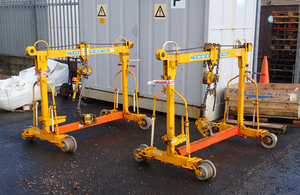 At around 21:40 hrs, a pair of special trolleys (known as 'ironmen') were being used to transport a 16 metre (52 foot) length of rail, weighing approximately 0.9 tonnes, from an access point at Gwaun-Cae-Gurwen to Raven level crossing. While the ironmen were in transit they ran out of control for a distance of more than five miles along the Garnant Branch line. Two track-workers travelled with the runaway ironmen (one on each) as far as Raven level crossing, where they shouted a warning to four colleagues who were in the process of removing road panels from the level crossing, before jumping off. As a result of this warning the men working on the level crossing were able to move away shortly before the ironmen ran through their site of work. One of the men who had travelled with the ironmen required hospital treatment for injuries he sustained when he jumped clear; there were no other injuries.
The ironmen subsequently ran through three further road crossings (two of which were automatically operated) and two footpath crossings before they had slowed sufficiently for a Network Rail manager to be able to stop and secure them near the town of Ammanford. The ironmen were not equipped with lights.
Reports indicate that the runaway occurred during a period of intense rainfall.
Network Rail documents show the average gradient of the line between Gwaun-Cae-Gurwen and Raven level crossing as being 1 in 40. The RAIB observes that the gradient of the line is not uniform and that it therefore exceeds 1 in 40 for parts of this distance.
A second pair of ironmen, which was being used to transport a similar load, was following the first pair. The three track-workers who were with these ironmen struggled to retain control of them, but eventually succeeded and brought their load to Raven level crossing as planned.
Our investigation will seek to identify the sequence of events and will include consideration of the planning of the work, the design and maintenance of the brakes on the ironmen, the rules governing the use of manually-propelled wheeled plant on gradients and the effect of the weather conditions. It will also take into consideration the findings from other similar incidents that the RAIB has investigated, including trolley runaways on the Larkhall Branch line in the Hamilton area on 2 November 2005 and near Haslemere in Surrey on 10 September 2011 (RAIB reports 20/2006 and 14/2012).
Our investigation is independent of any investigation by the railway industry, Office of Rail Regulation and British Transport Police. We will publish our findings, including any recommendations to improve safety, at the conclusion of our investigation. This report will be available on our website.
You can subscribe to alerts notifying you when we publish our report and bulletins.
Published 7 November 2014