Press release
Report 13/2015: Near miss at Raven level crossing
RAIB has released its report into a near miss with staff and runaway trolleys at Raven level crossing, Garnant, Carmarthenshire 1 November 2014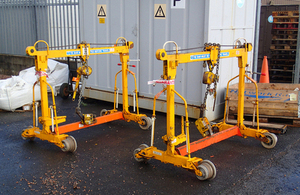 Summary
At about 21:45 hrs on Saturday 1 November 2014 a pair of rail carrying trolleys, known as 'Ironmen', carrying a 16 metre length of rail ran out of control for approximately 5.4 miles along the Garnant Branch line in Carmarthenshire. Two track workers rode on the Ironmen as far as Raven level crossing (a distance of about one mile) in order to shout a warning to colleagues who were working there; the warning provided just enough time for their colleagues to get clear of the line. The two track workers received minor injuries when they jumped off the Ironmen just before the crossing. The track workers were unable to control the speed of the Ironmen on the descending gradient towards Raven level crossing. The incident occurred due to a combination of the planning of the work, the control of the work, the speed at which the Ironmen were travelling and the performance of the Ironmen's brakes.
Recommendations
As a consequence of this investigation, RAIB has made six recommendations. One is to Network Rail, in conjunction with RSSB and the M&E Engineers Networking Group, to improve the design and testing of the brakes of manually propelled plant. Three recommendations are made to Network Rail relating to the planning of work using manually propelled plant, arrangements for compliance with the requirements of the Rule Book, and measures to mitigate the risk of runaway of manually propelled plant. One recommendation is made to Permaquip (the manufacturer of the Ironman), relating to the design and maintenance of the Ironman braking system. A further recommendation is made to Torrent Trackside (maintainer of the Ironmen involved in the incident) relating to the maintenance of braking systems fitted to manually propelled plant.
Notes to editors
The sole purpose of RAIB investigations is to prevent future accidents and incidents and improve railway safety. RAIB does not establish blame, liability or carry out prosecutions.

RAIB operates, as far as possible, in an open and transparent manner. While our investigations are completely independent of the railway industry, we do maintain close liaison with railway companies and if we discover matters that may affect the safety of the railway, we make sure that information about them is circulated to the right people as soon as possible, and certainly long before publication of our final report.

For media enquiries, please call 020 7944 3108.
Newsdate: 17 August 2015
Published 17 August 2015