Runaway of an on-track machine at Bryn, near Wigan
Investigation into a runaway of an on-track machine that occurred at Bryn station, between St Helens and Wigan, on 27 November 2014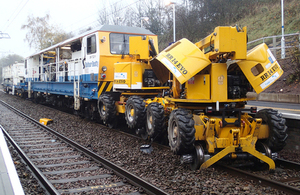 At the time of the accident the line concerned was closed to normal traffic and the machine was working within an engineering possession.
At approximately 00:10 hours, the machine, an overhead line electrification wiring vehicle, ran away and travelled approximately 100 metres before colliding with two stationary road-rail vehicles (mobile elevating work platforms). Both of the road-rail vehicles sustained severe damage and one was derailed. Two people on the road-rail vehicles and one person on the on-track machine jumped clear prior to the impact. Although no physical injuries were reported, a number of the workers were nearly struck by an elevating work platform which swung sideways due to the force of the impact.
Our investigation will examine the factors that led to the runaway. It will consider the design, conversion, commissioning and approval of the on-track machine, in particular and its brake and control systems; it will also consider the manner in which it was being operated and maintained.
Our investigation is independent of any investigations by the safety authority or the railway industry. We will publish our findings, including any recommendations to improve safety, at the conclusion of our investigation. This report will be available on our website.
You can subscribe to automated emails notifying you when we publish our reports and bulletins.
Published 5 December 2014