Press release
Rugby World Cup to thrust Cardiff into the global sporting spotlight
Stephen Crabb gives his backing to Welsh rugby squad's World Cup campaign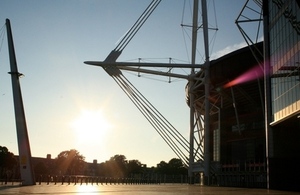 With eight days to go until the curtain rises on the 2015 Rugby World Cup, Secretary of State for Wales, Stephen Crabb has today given his support to Warren Gatland's Welsh squad as the final preparations for the tournament get underway.
Mr Crabb joined the Welsh contingent as they were put through their paces during a training session at their state of the art facilities in the Vale of Glamorgan today (10 September).
The eighth Rugby World Cup gets underway on 18 September with Wales set to kick off their campaign against Uruguay in Cardiff two days later. Cardiff's Millennium Stadium is set to host eight tournament matches in all – including two quarter finals – bringing with it the opportunity to showcase the city to a global audience.
A recent report carried out by Econactive for the Welsh Rugby Union showed that the Millennium Stadium generates over £130m a year for Cardiff and sustains more than 2,500 jobs.
Secretary of State for Wales, Stephen Crabb said:
From the Ashes to the Champions League, Wales has an excellent history of securing and delivering major sporting events. Over the next two months, we have another fantastic opportunity to showcase one of Europe's youngest capital cities to the world.

We cannot underestimate the significant benefits events like the Rugby World Cup can bring to a host nation. This year's tournament is expected to provide an estimated boost of almost £1bn to the UK's economy and is anticipated to attract 466,000 international visitors to England and Wales.

I was delighted to have the opportunity to give my personal support and best wishes to our national squad and the management team today. I look forward to watching their progress through the tournament and wish them every success in their campaign.
Published 10 September 2015