Press release
Rugby players: do you really want to share your mate's towel?
Contact sports such as rugby and wrestling are known risk factors for PVL-MSSA infection.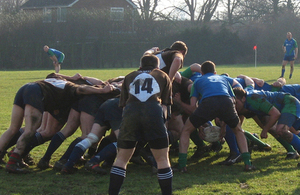 An investigation at a rugby club into a serious infection which usually causes boils, abscesses and carbuncles found that some spread among the players may have been caused by the sharing of towels and razors or the same ice bath. The work is being presented at PHE's annual conference this week.
The skin condition is called PVL-MSSA. This is a strain of Staphyloccocus aureus (SA) bacteria known as Methicillin Sensitive Staphylococcus aureus (MSSA) which produces a toxin known as Panton-Valentine Leukocidin (PVL).
Most active infections present as recurrent boils and abscesses but it can lead to serious infections which can cause the skin and tissues to die (necrotising fasciitis), and may be life-threatening.
Rugby is a well-recognised sport for PVL infection (as is wrestling) as the close contact and 'turf burns' from artificial grass can abrade the skin allowing the bacteria to multiply and get into the body.
Between August 2013 and February 2014, the PHE team in the South Midlands carried out an investigation into cases of PVL-MSSA, which included a questionnaire completed by players and staff followed by swabbing to detect the presence of PVL-MSSA bacteria.
In total 4 cases with an identical strain of PVL MSSA were identified, suggesting transmission within this setting. Two cases of active PVL infection with an identical strain of bacteria were found together with a positive result for colonisation (bacteria on the skin but no active infection) in a member of staff. A further case of PVL-MSSA wound infection was identified a week after the investigation had concluded in a player who had not attended the screening in February 2014.
Out of 59 people who responded to the questionnaire in February 2014, the results were as follows:
regularly share towels: 11 people (19%)
regularly share razors: 6 people (10%)
regularly share clothing : 3 people (5%)
use a cold bath after a game and training: 22 people (37%)
suffered any skin conditions in the last year: 17 people (29%)
suffered from any other infections in the last year: 11 people (19%)
Dr Deepti Kumar, a Consultant in Communicable Disease Control at PHE said:
PVL-MSSA can be a very serious infection and any positive result either for colonisation or active infection will require appropriate medical treatment not just of the patient but also of their close contacts or family. Because it can spread easily it is important to ensure that the correct procedures are in place to limit the spread of the bacteria.

The investigation identified a number of high risk practices among the players which increase their chances of getting an infection, such as sharing towels and razors, and sharing ice baths with their fellow team members. We would urge any sportsperson who plays a sport where cuts and grazes are commonplace to practice good hygiene and not share any item with fellow team members to reduce their risk of developing an infection.
Ends
Notes to editors
Four cases of PVL infection with an identical strain linked to the Club were identified over a period of 8 months.
In the first round of screening in December 2013, 55 players and 34 staff completed questionnaires. The club medical team took swabs from 13 players and staff in total.
In December 2013, 9 staff and 9 players were swabbed and of these 5 (3 staff and 2 players) were reported as MSSA positive but only one was positive for PVL MSSA.
In February 2014, swabs were taken from 59 players and staff and of these 21 (36%) were positive for MSSA. They were all negative for PVL-MSSA.
Many people carry strains of SA on their skin and can pass the bacteria to others by direct contact. Those who carry the bacteria on their skin without any signs of infection are said to be 'colonised' with the bacteria.
PHE data show that there are between 1,200 to 1,500 cases of PVL-MSSA nationally each year.
For more information on the PHE conference visit the PHE events website
PHE exists to protect and improve the nation's health and wellbeing and reduce health inequalities. It does this through advocacy, partnerships, world-class science, knowledge and intelligence, and the delivery of specialist public health services. PHE is an operationally autonomous executive agency of the Department of Health. www.gov.uk/phe Follow us on Twitter @PHE_uk
Infections press office
PHE press office, infections
61 Colindale Avenue
London
NW9 5EQ
Published 16 September 2014