RPA sets out plans for resolving farmers' BPS 2015 queries
The Rural Payments Agency (RPA) has set out what it is now doing to resolve remaining queries for 2015 Basic Payment Scheme (BPS) payments.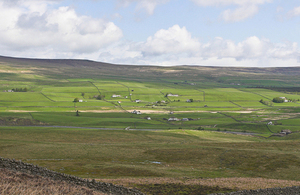 The Rural Payments Agency (RPA) has set out what it is now doing to resolve remaining queries for 2015 Basic Payment Scheme (BPS) payments.
By the end of June RPA will start writing to all claimants whose payments are part of its planned payment reconciliation process to let them know what is happening and what they can expect.
Chief Executive of the RPA Mark Grimshaw said:
We are now focused on looking at 2015 payments where there's a difference between the information on the claim and the information we hold, to make sure each farmer is paid for everything they were eligible for.

The past year has been about building the foundations of the new Rural Payments service, which will reduce fines for the UK and mean quicker and compliant payments for farmers.

We have all the resources we need and expect 2016 to be easier for our farmers. It has already got off to a good start with a record 80% of claims submitted online.
The process will initially look at around 13,000 individual 2015 BPS claims, many of whom wrote to RPA, investigating any differences in land and entitlements held and making any necessary data adjustments and top-up payments.
Using farmer and industry feedback, RPA will:
Focus on getting as much money paid to farmers as quickly as possible by looking at those claims with the biggest payment difference first.
Contact the farmer or agent if the RPA needs more information.
Let the farmer or agent know the outcome once the work is finished.
Issue a claim statement and explain to the farmer what they have done, when any additional amount is paid.
Update the data it will use to check the 2016 claim when it adjusts a farmer's 2015 claim information.
The new Rural Payments service has been designed to work in a different way to the old payment system by carrying out a range of pre-payment checks to ensure the payments it issues are compliant.
Using satellite data, aerial photography and digital maps, it ensures land being claimed under BPS matches the information held in its system.
Where there is discrepancy between a claim and the information held on the Rural Payments service, only the amount of the claim that matches is paid out, and penalties are applied before money is paid.
As well as the cases known to RPA, and so it can investigate all claim issues, the Agency asked farmers who believe their payment was not what they expected to write to them. Anyone with a query can still write to RPA, so it can investigate.
As of 26 June, 86,678, (99.5%) farmers have received a payment on their 2015 BPS claim.
BPS guidance
The decision by the British public to leave the European Union, does not mean there will be immediate changes. Until the UK formally leaves the EU, it still has a legal obligation to comply with the Common Agricultural Policy and all BPS scheme rules and regulations will apply. The 2016 BPS scheme guidance is available on GOV.UK/guidance/bps-2016.
Ends
Published 29 June 2016