News story
RPA helps farmers by providing guidance on greening rules 2016
Updated guidance on EU greening rules has been published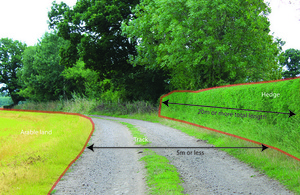 Updated guidance on EU greening rules to help farmers applying for Basic Payment Scheme (BPS) payments in 2016, make their 'greening' calculations has been published.
The rules cover three areas – crop diversification, Ecological Focus Areas (EFAs) and measures to maintain permanent grassland.
Update for 2016
The key changes to the greening rules are :
oilseed radish can now count (as part of a mix) as an EFA catch and/or cover crop
some EFA features can now be up to 5 metres away from arable land, rather than immediately next to it
Which farmers are affected?
farmers with 10 or more hectares of arable land need to follow the crop diversification greening rule
farmers with more than 15 hectares of arable land must also follow the EFA greening rule
farmers with less than 10 hectares of arable land do not need to do anything differently – they automatically meet the crop diversification and EFA rules
farmers who apply to the Basic Payment Scheme with permanent grassland must follow the permanent grassland greening rule
Published 29 September 2015