News story
RPA gears up to receive last minute BPS claims
With three days to go until the June 15 deadline for BPS 2015, the RPA is urging those farmers who have yet to claim to do so.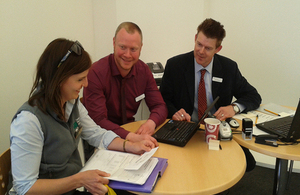 With three days to go until the June 15 deadline for Basic Payment Scheme (BPS) 2015, the Rural Payments Agency (RPA) has now received more than 71,000 application forms and is urging those farmers who have yet to claim to do so.
On Friday, the RPA was gearing up for a busy weekend with many drop-in centres across England open on Saturday and Sunday, more than half of them from 7am to 10pm or longer, to support farmers who need to make their claim ahead of the late-claim penalty period starting. On Monday, most drop-in centres will continue to accept forms right up to midnight. Full details of locations and opening times can be found on the interactive map on GOV.UK.
Farmers who have registered online on the Rural Payments system are reminded that they still need to submit a 2015 BP5 application. They can find a BP5 form on GOV.UK.
The RPA will also be telephoning during the day and evenings/weekends those who have already submitted a claim where initial checks show more information is required.
Farmers and agents who have already posted their forms can now check it has been received using an automated service. To access this service just call the Rural Payments helpline on 03000 200 301 and have your SBI ready. The helpline will be open to help with queries from 8am-4pm on Saturday and Sunday and 7am-6pm on Monday.
Where to find us this weekend
RPA will be at Royal Three Counties show from Friday through to Sunday. If you are already planning to attend, why not drop off your form at our stand (3009)?
In addition, our mobile support units will be available to receive your completed claim forms at:
13 June Sedgemoor Auction Centre, Greenslade Taylor and Hunt, Somerset, North Petherton, TA6 6DF 9am to 3pm

15 June Darlington farmers Auction Mart Co. Ltd, Bank Top Mart, Clifton Road, Darlington, DL1 5DU 8am to 3pm
Environmental schemes
Farmers and land managers who are claiming under legacy agri-environment or woodland grant schemes are reminded that the deadline for submitting their annual claim form is also midnight on 15 June 2015. Claimants should submit their applications as soon as possible and contact Natural England or the Forestry Commission, if they need help.
To make sure customers get their claims forms in by the deadline and to avoid any reduction in your payments, the Forestry Commission and Natural England encourage anyone claiming under the existing schemes to return their claim form in person at one of the 50 RPA drop-in centres across the country.
Published 12 June 2015