The Prince of Wales and the Duchess of Cornwall to visit Portugal, Spain and Morocco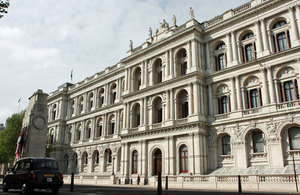 The British Government has asked The Prince of Wales and The Duchess of Cornwall to undertake official visits to Portugal, Spain and Morocco from 28th March to 6th April 2011.
The themes of the tour will include highlighting commercial diplomacy (including trade and investment promotion), co-operation on climate change and building a low-carbon economy, faith and minority communities and youth opportunities, the military and cultural links.
The tour will begin in Lisbon, Portugal, where among other engagements The Prince and The Duchess will celebrate long-standing co-operation between the Portuguese and British Navies, support British trade and investment opportunities and highlight the work of the substantial resident British community. The President of Portugal will host an official dinner.
In Spain, The Prince and The Duchess will be received in Madrid by The Prince and Princess of Asturias, attend an official dinner at the Royal Palace and have lunch with Their Majesties The King and Queen of Spain. Again, trade and investment promotion will be to the fore to support the UK economy. Their Royal Highnesses will meet and thank the volunteers who support the large British population in Spain and will also visit Seville, where the Royal Couple will undertake a number of engagements throughout the city.
The Spring Tour will finish in Morocco. In Rabat, Their Royal Highnesses will be guests of The King of Morocco, who will receive them for a meeting and an official dinner. The programme will focus on support for British companies and their work on corporate social and environmental responsibility, together with youth opportunities. Their Royal Highnesses will also visit the Moroccan 1st Parachute Infantry Brigade (The Prince of Wales is the Colonel-in-Chief of the British Parachute Regiment). Outside the capital, The Prince of Wales will visit the oasis at Errachidia where he will see efforts to prevent and mitigate the impact of desertification as well as the local community's work to adapt to climate change. Their Royal Highnesses will also undertake engagements related to inter-faith dialogue and culture in the city of Fez.
Published 25 March 2011