News story
Royal Navy's 847 Squadron returns from USA trained and ready to fight
847 Naval Air Squadron personnel have returned to RNAS Yeovilton after a month-long training package in the deserts of California.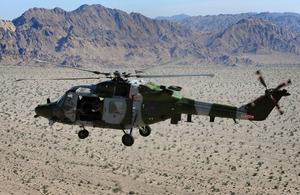 Why did 847 Naval Air Squadron go all the way to the US Naval Air Facility at El Centro in California? Well, it replicates many of the climatic and geographical features that the squadron will encounter in Helmand province, Afghanistan, and provides excellent value in terms of training.
Like El Centro, the base at Camp Bastion is high above sea level and the air can be extremely hot and dusty in the summer and also extremely cold when operating in the mountainous regions in the winter.
The locality in which the Lynx Mk9A helicopter will be operating will no doubt challenge both aircrew and ground crew alike, from the battle-hardened helicopter instructors to, in particular, the inexperienced aviators and engineers.
El Centro also provided easy access to a number of outstanding firing ranges, unlike anything available in the UK, where the air door gunners were able to hone their airborne gunnery skills with the 0.5-inch (12.7mm) M3M Browning machine gun, a weapon that has a long range, very good accuracy, and uses a variety of multi-role ammunition.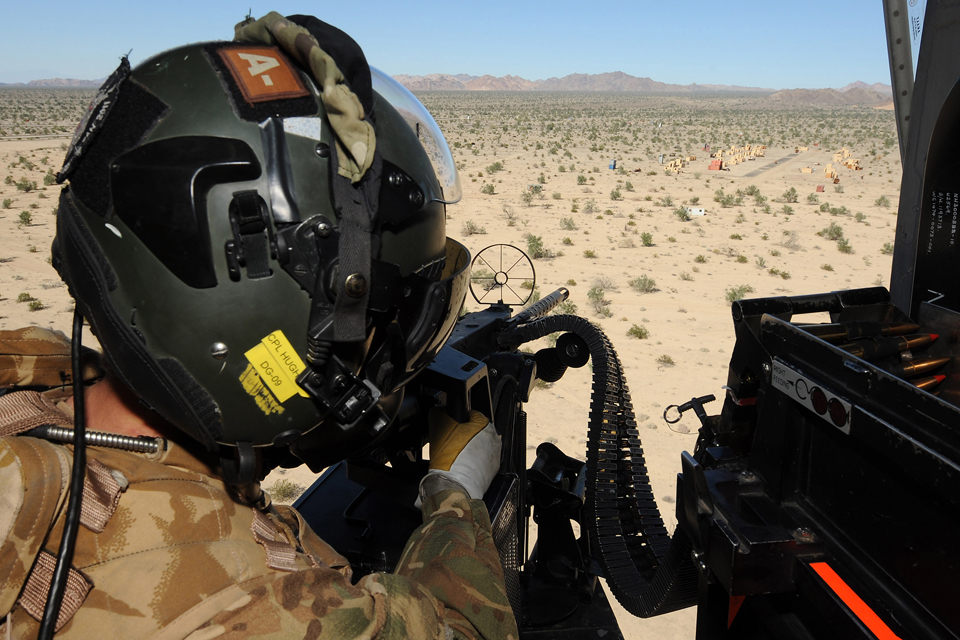 The squadron also managed to squeeze in some mutual training with 45 Commando Royal Marines who were also conducting pre-deployment training at the base.
However, it was not all about work. A very welcome fringe benefit of operating at El Centro is its close proximity to San Diego which proved to be an excellent run ashore and enabled all to recharge some very weary batteries.
Returning the aircraft and support equipment to Royal Naval Air Station Yeovilton proved to be a challenge for the squadron engineers.
Fitting all four aircraft into the hold of the Antonov 124 looked to be an extremely difficult and daunting task, but with considerable precision and skill they managed to gently manoeuvre their treasured aircraft into the available space.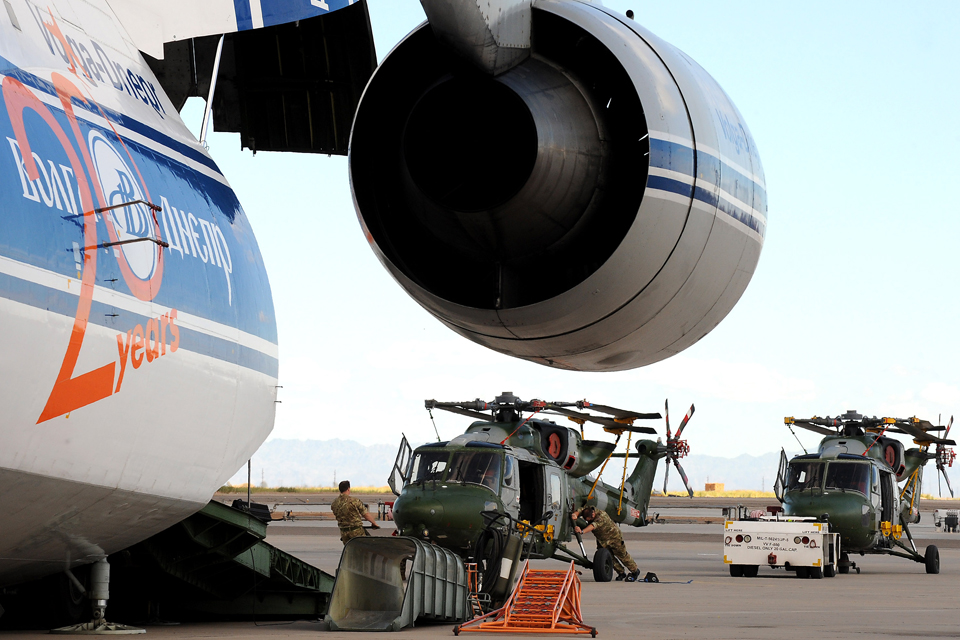 Lieutenant Commander Spence, a Senior Pilot in 847 Naval Air Squadron, said:
The training in the USA has now provided the squadron with the essential fighting skills required when they deploy to Afghanistan in January 2013 and we have all appreciated the quality of the training that El Centro provided.
The challenging conditions at the base tested many of the Junglies' skills and, from an aircrew perspective, were able to understand how they and their aircraft performed in the intense hot and dusty environment.
Published 11 December 2012