Royal Navy saves Spanish vessel from pirate attack
The Royal Navy has come to the aid of a Spanish fishing vessel under pirate attack in the Indian Ocean this week.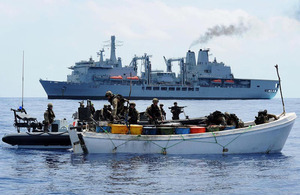 On Monday, 28 November 2011, Royal Fleet Auxiliary (RFA) vessel Fort Victoria was patrolling in an area approximately 420 nautical miles (780km) from the Seychelles and 350 nautical miles (650km) from the Somali coast as part of NATO's Combined Task Force 508.
Early that morning, she received information that a Spanish fishing vessel operating to the north of their position had come under attack from a group of pirate vessels. The ship's Lynx helicopter was quickly despatched to investigate.
Once at the scene, the helicopter identified two suspect vessels, a whaler and a skiff, in the vicinity of the fishing vessel. The faster of the two, a skiff, sped away at over 25 knots (46km/h) as the helicopter gave chase.
When the skiff ignored orders to stop, a specially trained sniper on board the Lynx helicopter fired warning shots ahead of the fleeing vessel which stopped and the suspected pirates on board were then taken to Fort Victoria via boat.
Fort Victoria's Royal Marines boarding team then boarded the whaler and another skiff in the vicinity. As a result of the day's action, a total of seven suspected pirates were held on board Fort Victoria along with their whaler as evidence, with no injuries being sustained by either side.
Secretary of State for Defence, Philip Hammond, said:
This latest operation demonstrates again the vital work we are undertaking to tackle piracy that threatens international shipping lanes. British forces are in the forefront in the fight against piracy.
The resolute contribution of the Royal Navy and Royal Fleet Auxiliary, operating as part of an international coalition, is keeping up the pressure.
Lieutenant Alastair 'AJ' Thompson Royal Navy, Flight Commander 229 Flight, said:
This operation was superbly well co-ordinated. We located the pirate vessels using the Lynx. We could see the fishing vessel was clearly in trouble and our actions were decisive in disrupting the pirates from further attacks on the fishermen and eventually stopping them.
Having disrupted several pirate vessels and with both evidence and suspected pirates on board, permission was sought to take them to the Seychelles for prosecution.
With Seychelles authority granted, this will be the first case to be heard there under a memorandum of understanding signed between the UK and Seychelles governments in July 2009.
Captain Gerry Northwood Royal Navy, embarked on RFA Fort Victoria, said:
It has been a long but rewarding operation with many complex aspects. Operating under NATO tasking and in consultation with our headquarters in the Middle East and in the UK, we utilised a range of national and international assets to bring these events to a satisfactory conclusion.
The Royal Navy has once again demonstrated that multinational co-ordination can be successfully deployed to disrupt piracy in this area in order to protect international merchant shipping.
RFA Fort Victoria is a vital platform for command and control of counter-piracy operations. She is also a key element of the Royal Navy's Response Force Task Group and provides, under her core role, essential replenishment and logistical support to naval vessels worldwide.
Published 2 December 2011