News story
Royal Navy personnel qualify in US Navy roles
In a show of allied co-operation, 2 Royal Navy sailors have successfully qualified in US Navy roles on submarines and aircraft carriers.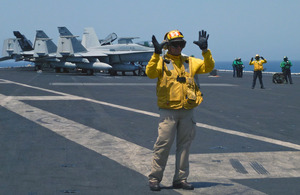 Submariner Lieutenant Matt Main and Chief Petty Officer Stacy Gager have been working with US colleagues as part of the US-UK personnel exchange programme and long-lead specialist skills programme.
Lieutenant Main has already earned his Royal Navy 'dolphins' – the unique badge which signifies a qualified submariner – but on 10 June he was presented with the US equivalent after a gruelling 27-month training and qualification process.
Fully integrated into the crew of the USS New Mexico, Lieutenant Main is currently the damage control assistant and will become the assistant engineer in due course before returning to the Royal Navy.
US Navy submarine officers must qualify both forward and aft to earn their dolphins and so, for Lieutenant Main, learning to drive the submarine both surfaced and submerged has been a unique experience.
Lieutenant Main said:
It is a real privilege to serve on this fine submarine with such a professional, motivated crew.

It has been a tough process, but getting my US Navy dolphins is one of the highlights of my career and I have enjoyed every minute of it. The welcome I received when I reported on board a year ago was incredibly warm and I am proud to call these men my brothers.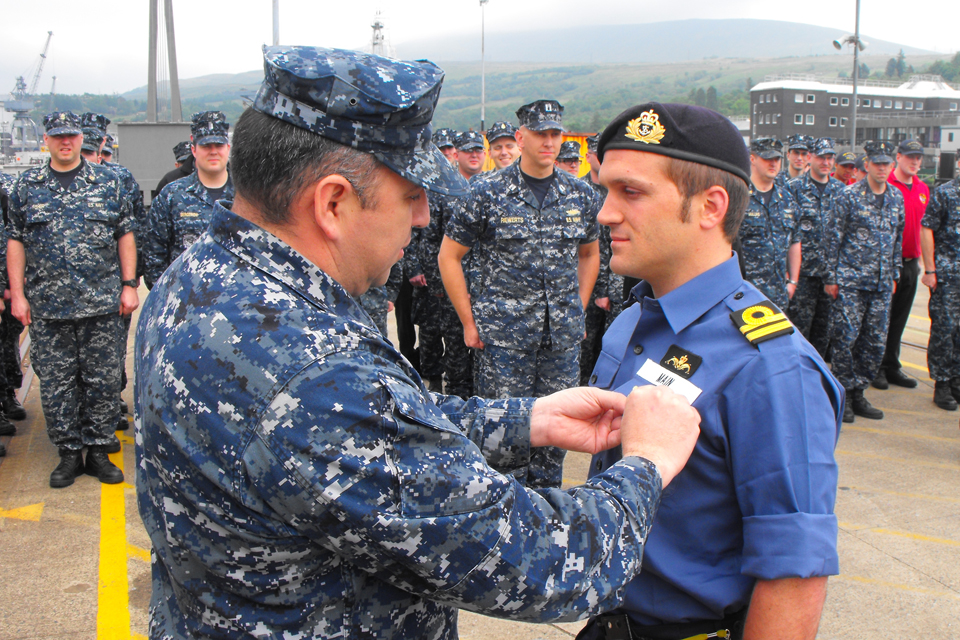 Chief Petty Officer Stacy Gager is the first British sailor to qualify as an aircraft director on a US carrier after being put through an intense training programme on the USS Dwight D Eisenhower.
Chief Petty Officer Gager, who is an aircraft handler by trade, is now trained to co-ordinate a continual stream of aircraft moving around the carrier as they prepare to fly or come into land on the deck. A dangerous and intense job, the qualifications will stand him in good stead for the Royal Navy's own future carrier strike capability.
He said:
I am really pleased. I studied whenever I could and worked hard on the deck so that I could pass their exams just as their own US sailors do, so it made me very proud to get my qualification.

I have really enjoyed the training on the US carrier – it has been exciting and something different. I wanted to do this from the first time it was mentioned and the first to be out here learning these new skills and bringing them back to the Royal Navy.
Chief Petty Officer Gager is on board the USS Dwight D Eisenhower along with 3 other Royal Navy aircraft handlers as part of a new scheme between the 2 countries called the long-lead specialist skills programme.
A further 3 sailors are on board the USS Kearsarge. The idea is for Royal Navy sailors to regain specialist operational aircraft handling skills while the Queen Elizabeth Class carriers are under construction.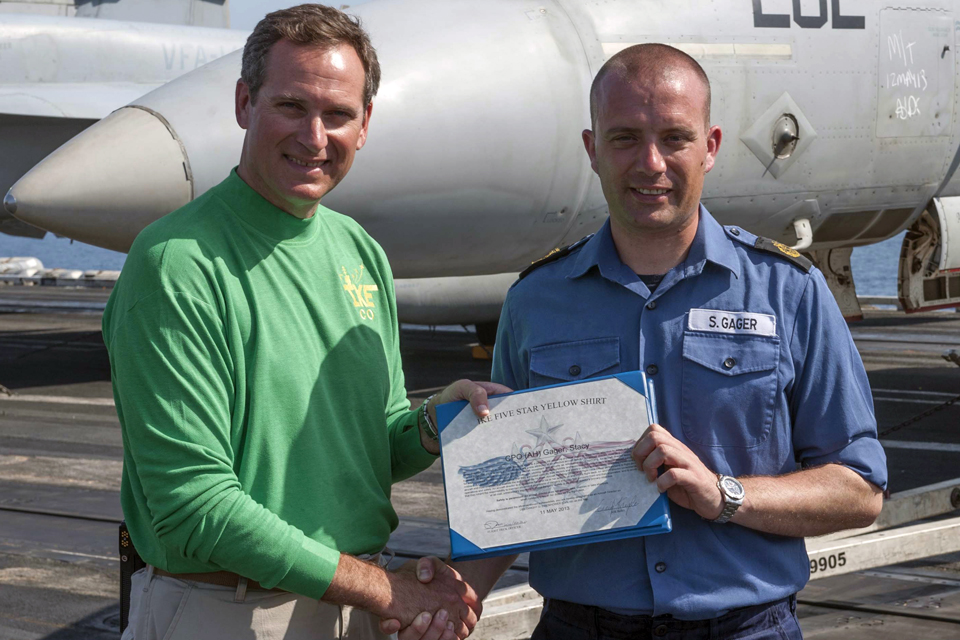 RAF personnel are also included on the programme and around 300 personnel are expected to be trained by the end of the decade.
Lieutenant Commander Jon Llewellyn, aircraft handling staff officer at Navy Command HQ in Portsmouth, said the programme was invaluable for when the HMS Queen Elizabeth comes into service:
The feedback we have had from the team out there is that it has been a very valuable experience. It is pretty tough training for them and it is a feat in itself the difference in living and working in that environment.

The flight deck is one of the most dangerous places to work in the world. You have to have an awareness of everything that is going on around you – there are jet blasts coming from all around and aircraft landing and taking off.

But as far as job satisfaction goes it is very, very rewarding. They are enjoying learning the skills and putting what they already know into practice. This is what they signed up to do and they don't get to do it very often. It is going to put us in good stead for our own carriers.
Published 18 June 2013