World news story
Royal Engineer Reserve Band Supports Kosovo Security Force (KSF)
The leadership team from The Nottinghamshire Band of the Royal Engineers travelled to Kosovo to support the professional development of the KSF Military Band.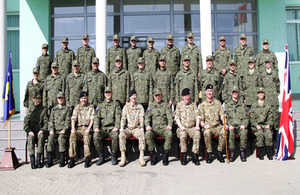 Since 2012 the British military have been supporting the KSF Military Band. During this time the UK military music world and their KSF counterparts have developed a close working relationship.
In late February 2015, a team of three from the Nottinghamshire Band of the Royal Engineers travelled to Kosovo to spend a week providing professional guidance to help their Kosovar colleagues to develop their repertoire, ceremonial capabilities and marching skills. As the KSF Band is a Reservist band, the Nottinghamshire Band, as the leading Army Reserve band in the UK, was an ideal mentor for the KSF.
Bandmaster WO1 Simon Kerwin, Royal Engineer said:
It was very easy to work with the KSF Band as they are very good musicians who are eager and keen to learn.
Capt Shkumbim Bajraktari, KSF Band Leader, said:
We have worked with British military bands in the past and we have always learned a great deal from their input. The Royal Engineer Band has kept up with this tradition and they have even worked us harder than the Royal Marine Band in the past and taught us a great deal.
Lieutenant Colonel David Jones RE, Commander KSF Adviser said:
It was really good seeing the Nottinghamshire Band working alongside the Kosovars and passing on their experience and knowledge. The feedback from the visit was excellent and the KSF want at least an annual visit from the Royal Engineers Reserve Band.
Published 5 March 2015