World news story
Round table with Uzbek students
British Ambassador to Uzbekistan discusses European Integration with Uzbek students.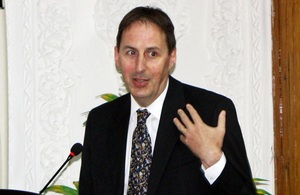 On 28 May British Ambassador George Edgar participated in a round table organized by the European Union Delegation in Tashkent in partnership with the Ministry of Higher and Secondary Specialized Education, held at the National University of Uzbekistan. The Ambassador spoke on the theme of "60 years of the European Integration: Successes, Opportunities and Challenges" in front of a large audience of students and academic staff members. The event was a part of a programme of "days of Europe in Uzbekistan" arranged by the EU Delegation to raise awareness of the EU among Uzbek students through a series of presentations by EU states' Ambassadors to Uzbekistan in the leading universities of Tashkent.
Mr Edgar spoke about the European Union's origins, and its development from the launch of the Coal and Steel Community at the beginning of the 1950s to the present day. He described progress in integration including the establishment of a single market, free movement of people, goods and capital, the development of a common foreign policy and the recent creation of the European External Action Service headed by Baroness Ashton. Referring back to the Schuman Declaration of 1950, Mr Edgar underlined the importance of the EU as an example of nations pooling aspects of their sovereignty to their mutual benefit, and of a co-operative approach to relations between states in a region that in the previous fifty years had suffered two catastrophic wars.
More than 80 students and academic staff members from the Departments of Foreign Languages, Philosophy, Political Science and Economics of the National University of Uzbekistan participated in the round table. Following Mr Edgar's presentation they had an opportunity to ask a number of challenging questions related to the present and future of EU and Uzbekistan-EU bilateral cooperation.
Published 29 May 2013