World news story
Rossana Banti, WWII radio operator in Italy, receives 3 Service medals
On 5 January 2015 Ambassador to Italy Christopher Prentice presented 3 Service medals to 89-year-old Mrs Banti for her work for the Allies during WWII.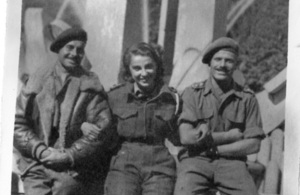 Mrs Banti received: the War Medal 1939 to 1945 for having served in the British Armed Forces during the Second World War; the 1939 to 1945 Star, for operational service overseas during the war; the Italy Star for service in Italy.
Mrs Banti, who will reach the age of 90 on 8 January 2015, the daughter of an Italian General, enrolled in the British Army at the age of 17 with the FANY (First Aid Nursing Yeomanry), as a radio operator in No 1 Special Forces Unit SOE (Special Operations Executive) and served with them until the end of the war. During those difficult years she manned radios to maintain contact with agents behind enemy lines and subsequently became a member of the team that briefed and debriefed agents on their missions to occupied Italy.
This brave young woman who later went on to become a successful TV producer has been unaware of the impact of her wartime service and is finally being given just recognition 70 years later.
British Ambassador in Italy Christopher Prentice commented:
For the men and women of SOE, the stakes could not have been higher: as irregular forces they faced summary execution on being caught. They lived in often terrible conditions, with little to eat, shortages of weapons and ammunition, and they had to weigh up the potential consequences of their actions as the Nazis stepped up their programme of reprisals. The agents, both British and Italian, parachuted in to help organise, equip, train and guide the actions of the partisans depended for their very existence on the dedication of the FANY signals staff. Mrs Rossana Banti was one of those dedicated women who served the Allied cause with the spark and enthusiasm of youth during the difficult period of the Nazi occupation.
Mrs Rossana Mathews, née Banti
Rossana Banti (later Mrs Mathews after she married Giuliano Mattioli, an SOE agent who was known as Julian Mathews) was enlisted, in the field, into the First Aid Nursing Yeomanry (FANY) Special Units on 23 September 1944, after service with the Italian Resistance. (On 18 July 1944 a letter of recognition, by the Italian Government, of her service as a 'Fighting Combatant' from 1 October 1943 to 4 June 1944, was sent to Rossana).
The unit of the FANY with which she was to serve until 29 May 1945, was part of the Special Operations Executive (SOE) in Italy, titled 'No.1 Special Force'. The main role of the FANY signals staff was the coding/decoding of messages, and the transmission/receiving of messages, to and from SOE agents in the field. The signals element was supported by FANY administrative staff.
Banti was based at HQ SO (Special Operations) (M) (Mediterranean) Admin Echelon, located at Torre a Mare. As a qualified Secretary, she moved to ME (Military Establishment) 61 on 8 December 1944. ME 61 (HQ Special Operations (Mediterranean) was based at Mola di Bari. Appointed FANY Admin Instructor on 8 May 1945, she was promoted to L/Cpl. The acting rank of members of the FANY serving overseas was Cadet Ensign, and this insignia will have been worn on Banti's uniform.
In addition to English, 'Banti' was fluent in Italian and French. Her sporting achievements included riding, skiing, swimming, and pistol shooting. She undertook parachute training with the SOE and her certificate of qualification as a parachutist was signed by the O.C. Parachute School, 71 Sub-Area, CMF (Central Mediterranean Force) on 14 October 1944.
On 25 September 1945 the commander of No.1 Special Force, Lt.Col. Hewitt, commended Banti for her valuable service.
During this time she was dressed always as a Cadet Ensign in the British FANY Corps and in all respects had the status of a British Officer. She worked loyally and courageously for the Allied Cause and won the affection and respect of all ranks by her cheerfulness, enthusiasm and understanding. This HQ is anxious that her record of service to her country and the Allies should not pass unrecognised.
Commandant Kim McCutcheon, current Commanding Officer FANY has added:
I would like to add my own personal congratulations and, on behalf of all members of the First Aid Nursing Yeomanry, offer their collective congratulations and good wishes to Banti at this very special time.
Published 5 January 2015