News story
Rolling Stones and Taylor Swift CDs among one tonne of fakes found by Border Force
Border Force officers at Manchester Airport have stopped the largest ever consignment of counterfeit CDs from being smuggled into the UK.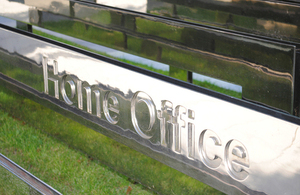 Weighing in at 1.2 tonnes the fake CDs were discovered when Border Force officers at Manchester Airport inspected freight that had arrived on a flight from Hong Kong in early December.
Taylor Swift
The accompanying paperwork described the goods as car MP3s but when officers checked the load they discovered illegally copied CDs by artists ranging from the Rolling Stones to Taylor Swift.
Operating at UK ports and airports Border Force help protect the UK economy and public from the illegal trade in counterfeit goods as well as other prohibited and harmful goods such as drugs and weapons.
Chanel perfume
Recently Border Force operations at Manchester International Airport, which handles more than 112,000 tonnes of import/export freight and mail each year, stopped a range of counterfeit goods including fake Chanel perfume as well as fake designer shoes.
Home Office minister Mark Harper said: 'Cheap counterfeits undercut honest traders leaving shoppers with goods that are at best inferior and, at worst, harmful or unsafe. They are a serious threat to the British economy in terms of lost profits and tax revenues.
'Border Force officers operate at ports, airports and mail sorting centres to intercept counterfeit goods to protect British consumers and business.
'The public can play their part in disrupting the trade by ensuring they only buy from genuine retailers.'
Counterfeit goods
Officers from the City of London Police Fraud Investigation team have seized fake CDs with a street value of more than
A further 20,000 CDs were also seized by City of London Police officers at a separate address and a man from Morecambe was subsequently interviewed regarding the haul and  subject to further investigation.
Detective Superintendent Tony Crampton of the City of London Police Economic Crime Department said: 'We do take  the issue of  counterfeit goods seriously - it takes money from the hands of hard working people and undermines the UK economy.
'It is a crime and we will seek to bring those to justice those who think they can make a quick buck by taking advantage of those trying to save money at Christmas. Unfortunately, people will often unwittingly end up with substandard goods and no comeback.'

Published 18 December 2012