Press release
Rochester firm says 'alloy' to regional growth boost within aerospace
Business Minister Michael Fallon visits Rochester aerospace firm who have secured over £1 million from the government's Regional Growth Fund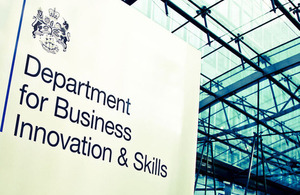 Business Minister Michael Fallon today visited an aerospace firm in Rochester that has secured just over £1 million from the government's Regional Growth Fund.
Aeromet, which produces aluminium castings for the aerospace industry, will use the funding for a research and development project to exploit new technologies for its patented aluminium alloy A20X. The investment is expected to create up to 38 jobs across its three sites in Rochester, Sittingbourne and Worcester.
Research into the alloy A20X - the strongest cast aluminium alloy available commercially – will help to provide a more cost effective and versatile way to produce aluminium components and explore its use within aerospace and other sectors such as defence, renewables and the automotive markets.
Above all it is hoped that the research will improve efficiency by reducing the weight of individual components and reducing overall emissions in transportation costs.
Speaking at Aeromet and seeing where the aluminium castings are made, Business Minister Michael Fallon said:
Today's announcement is great news for Aeromet in what could be a game changer for the industry. For me this project underlines the importance of supporting advanced manufacturing and innovation through the Regional Growth Fund – it creates jobs and acts as an important lever for bringing in skills and expertise.
I look forward to seeing the progress of this project and the benefits that it will bring for the aerospace supply chain in new technology and improved efficiency. We also remain committed to working with the industry as part of the Aerospace Growth Partnership to ensure that the UK remains at the leading edge of aerospace technology.
Aeromet's Commercial Director, Alan Dustan, commented:
Without the RGF Funding the project would either have been delayed for a number of years or not proceeded at all. However, with the funding we can continue the research, support the three Aeromet sites and their supply chains as well as creating over 30 new positions.
As a result of the project, Aeromet will work with the Universities of Birmingham and Warwick to further explore the properties of A20X.
The Regional Growth Fund is part of the government's work with industry to develop an industrial strategy, including a strategy for the aerospace sector so that the UK continues to be a leading aerospace nation. This will support the sector in developing new technologies for future aircraft and to produce high value products both faster and to higher standards.
Notes to editors:
1.Aeromet is a small to medium business which employs 245 staff, specialising in the production of components for the aerospace industry. Key customers include Airbus, Boeing and BAE Systems.
2.The Regional Growth Fund (RGF) is a £2.6 billion fund operating across England from 2011 to 2016. It supports projects and programmes that lever private sector investment to create economic growth and sustainable employment.
3.Round 4 of the Regional Growth Fund is now open and will close to applications on 20 March at noon and bids will be appraised as quickly as possible. Potential applicants can register for an expression of interest event in London on 4 March for further help with the application process. Please contact 0207 215 3295 to register or to find out more information.
4.The Regional Growth Fund works with the government's Industrial Strategy; supporting local priorities, creating jobs and enabling private sector investment for the long term in key sectors. This is the government's commitment to growth in action to encourage investment and exports to lead to a more balanced economy.
5.Projects are a type of RGF bid for funding which go direct to the final beneficiary whether it's a company, local authority or non-profit body. A programme is a type of RGF bid which will be awarded to an intermediary who will then use it to run a grant or loan scheme for final beneficiaries, or develop infrastructure to enable business growth.
6.The government's economic policy objective is to achieve 'strong, sustainable and balanced growth that is more evenly shared across the country and between industries'. It set four ambitions in the 'Plan for Growth' (PDF 1.7MB), published at Budget 2011:
To create the most competitive tax system in the G20
To make the UK the best place in Europe to start, finance and grow a business
To encourage investment and exports as a route to a more balanced economy
To create a more educated workforce that is the most flexible in Europe.
Work is underway across government to achieve these ambitions, including progress on more than 250 measures as part of the Growth Review. Developing an Industrial Strategy gives new impetus to this work by providing businesses, investors and the public with more clarity about the long-term direction in which the government wants the economy to travel.
Published 15 February 2013