Press release
Robust regulation in place to accelerate shale development, says Energy Minister
Energy Minister Michael Fallon says nothing now stopping oil and gas licensees from bringing on new drilling plans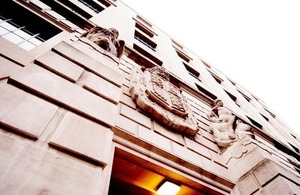 Press Release 13/045
Speaking at the first meeting of the new All Party Parliamentary Group for Unconventional Gas & Oil (APPG) in the House of Commons today, Energy Minister Michael Fallon said:
"The Government is creating the right framework to accelerate shale gas development in a responsible way.
"We announced fracking could resume with robust regulation last December and there is nothing now stopping licensees from bringing on new drilling plans.
"It is up to licensees to come forward with plans to explore the shale potential, engaging with local communities and gaining the necessary planning permissions and permits."
The APPG for Unconventional Oil & Gas is a parliamentary discussion forum of MPs and Lords with associate members including representatives from across the industry and supply chain, trade bodies, consumer groups, academic organisations and NGOs.
Chaired by Dan Byles MP, the group will consider unconventional oil and gas exploration and development, and the potential wider environmental, economic and other impacts.
Mr Fallon added:
"There are already 176 licences for onshore exploration and development, conventional and unconventional, a fifth of which are substantial. We expect to launch a new round of licence applications next year and I am announcing that AMEC will carry out the necessary Strategic Environment Assessment for what will be the UK's 14th onshore licensing round.
"Shale gas has great potential and we have the right regulation in place so the UK benefits as quickly as possible in terms of energy security, investment and jobs.
"But development must be done in partnership with communities. We are working hard with industry on a package of community benefits and to ensure that their concerns are properly met."
Notes for Editors
For more information about the UK's onshore oil and gas regime and shale gas visit the Oil and Gas onshore exploration page of GOV.UK

There are 176 onshore oil and gas licences comprising 245 geographically distinct areas in the UK. There are 39 companies with an interest in one or more licences.
Published 15 May 2013