News story
Robert Goodwill sees flood recovery in Yorkshire and Humberside
Ministerial flood representative praises response and seeks lessons learned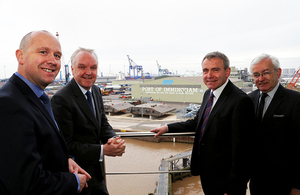 Transport Minister Robert Goodwill has visited Yorkshire and the Humber estuary to discover how the areas are recovering from damage caused by the recent severe weather.
At the Port of Immingham, the largest by tonnage in the UK, he spoke to owners Associated British Ports and viewed the ongoing works to improve its resilience to tidal flooding. The Transport Minister praised the work of the Environment Agency, port owners and local authorities involved in the recovery.
Robert Goodwill said:
The worst tidal surge in over 60 years had a severe impact on the Yorkshire coast and Humber estuary. I want to pay tribute to the multi-agency response and the continuing work by local authorities and others to help those affected. Meeting with local authorities is an opportunity to discuss how to improve resilience for the future.

I want to hear about the lessons learned and to identify any barriers to recovery. It is heartening to see that Yorkshire and North Lincolnshire are open for business.
As the ministerial flood representative for the north east, Yorkshire and Humberside, he also travelled to Beverley to meet with local authorities from the regions to hear about the problems encountered by the tidal surge and flooding. The minister discussed the lessons learned and the plans on responding effectively to future severe weather.
News desk enquiries
Media enquiries 020 7944 3021
Out of hours media enquiries 020 7944 4292
Switchboard 0300 330 3000
Published 17 April 2014