News story
Roads minister visits site of M2 hole
Robert Goodwill meets Highways Agency staff working on M2 site.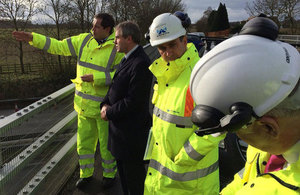 Roads Minister Robert Goodwill has today (13 February 2014), Thursday 13 February 2014, inspected work being carried out near Faversham in Kent by Highways Agency engineers to fix a 15ft-deep hole on the M2, and urged motorists to take extra care during the current incidents of severe weather.
The hole in the central reservation was discovered during routine inspections by Highways Agency contractors on the afternoon of Tuesday 11 February, resulting in the closure of the M2 between junction 5 (A249) and junction 6 (Faversham) in both directions.
The Highways Agency has been working around the clock to fix the problem, opening lanes of the motorway between Sittingbourne and Faversham this morning. Two lanes are open London-bound, giving full capacity in this direction, and 1 lane coastbound. The agency and its contractors are carrying out geotechnical investigations to find the cause of the hole and allow the repair work to be safely completed as soon as possible so that the remaining lanes can be reopened to traffic.
Following an inspection of the site on the M2, Roads Minister Robert Goodwill said:
Motorists are understandably frustrated at the time it has taken to sort out this problem. However it is important that the Highways Agency understands the cause of the problem before carrying out remedial action to avoid any repetition that could put motorists at risk.

My priority is making sure that motorists are safe, especially during this period of extreme weather, and I would urge them to take extra care, check local bulletins and ask if their journey is absolutely necessary.

We are working hard to ensure that problems like this hole are fixed quickly and efficiently but these remain testing times for the road network. The storms and floods are also affecting local roads, and yesterday the Prime Minister announced an extra £30 million in funding for road maintenance for those councils affected by bad weather.
The Highways Agency has dealt with more than 8,000 incidents in the last week, which includes flooding and clearing fallen trees, on top of routine breakdowns. In response the agency has increased the number traffic officers across the network to ensure prompt response to incidents and are looking at postponing roadwork schemes where trains are not running to aid traffic flow.
The department, meanwhile, continues to closely work with partners and is in regular contact with local highway authorities, councils and DCLG to assess local conditions.
Roads media enquiries
Press enquiries 020 7944 3021
Out of hours 020 7944 4292
Switchboard 0300 330 3000
Published 13 February 2014