Press release
Roads minister visits congestion-cutting scheme in the east of England
Roads Minister John Hayes has visited the A1 and A47 Wansford interchange.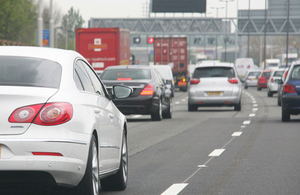 Roads Minister John Hayes today (23 October 2014) visited the site of a new congestion-busting road scheme on one of the busiest junctions in the east of England.
The A1 and A47 Wansford interchange carries over 60,000 vehicles per day and improvements will see the eastbound A47 and A1 slip road widened and new traffic signals installed at the eastbound roundabout. The much-needed changes will help improve traffic flow and safety for road users in and around the county.
John Hayes said:
These improvements will be a huge benefit to road users who get stuck at this junction on a daily basis. Plans are on track to see diggers on the ground in January, and once completed the works will cut congestion and unlock the economy in the east of England.

This is part of a £24 billion upgrade to Britain's major roads, which will include further improvements to the A47, details of which will be set out later this year.
The £600,000 scheme is part of the government's £100 million funding dedicated to tackling 'pinch points' of congestion on Britain's local roads. It will open in March 2015.
For further information about the scheme go to the Highways Agency's website
Find out what else the government is doing to support and grow the UK economy.
Roads media enquiries
Press enquiries 020 7944 3021
Out of hours 020 7944 4292
Switchboard 0300 330 3000
Published 23 October 2014