Press release
Road worker safety improved by 'game changer'
A Highways England initiative which has virtually eliminated the millions of occasions road workers had to cross carriageways a year - improving safety and reducing risk – has been hailed a 'game-changer'.
This news article was withdrawn on
This document is no longer current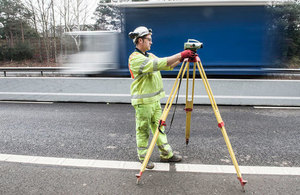 The initiative means road workers no longer have to put up traffic-management signs in the central reservation of two, three or four lane dual carriageway roads – saving 3.7 million crossings a year. This mainly applies to overnight work taking place over a short period.
Highways England worked with partners the Transport Research Laboratory (TRL) and the Road Worker Safety Forum (RoWSaF) to research the safety implications of carriageway crossings for both road users and road workers. On-road trials were carried out which found that road user safety was unaffected when signs were only installed on the nearside verge.
Now Highways England, TRL and RoWSaF have scooped a prestigious "Special Merit Award" in the Highways Magazine Excellence Awards, where the initiative was described by judges as a "game changer" for safety in the industry.
Highways Magazine said:
Usually there are only three or four entries each year which the judges feel have substantial benefits to be considered for this special award. This year was no exception but there was one clear winner.
Ian Smith, team leader for Highways England health and safety division based in Bedford, said:
This is a great achievement but we will not stop here.

We are already working on innovative techniques which will further improve road worker safety while working on live lanes and near to traffic management vehicles. We are aiming to massively reduce these remaining levels of risk by the end of 2016.
Mark Pooley, road worker safety programme manager based in Guildford, said:
The removal of carriageway crossings, while installing and removing temporary traffic management, has resulted in a huge reduction in risks to road workers right across our network.

Typically six crossings had to be undertaken by road workers to install and remove a single sign on the central reservation (the A frame, sand bags and the sign). Up until recently there were typically five temporary traffic management signs on the central reservation, so you can imagine how much working practices have been improved.
The service providers that carried out the on-road trials during normal, scheduled road works were Enterprise Mouchel, Chevron, Balfour Beatty Mott MacDonald, HW Martin and Connect Plus.
The on-road trials started in 2010-11, with the industry safety guidance for road works being revised progressively.
General enquiries
Members of the public should contact the Highways England customer contact centre on 0300 123 5000.
Media enquiries
Journalists should contact the Highways England press office on 0844 693 1448 and use the menu to speak to the most appropriate press officer.
Published 28 October 2015