Press release
Road worker dangers highlighted in Cumbria
Workers on Cumbria's road network are urging motorists to think about their safety and stick to the speed limit when they drive through roadworks.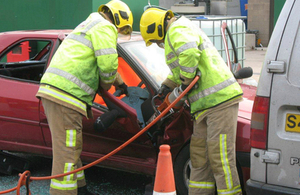 The dangers facing road workers are being highlighted as part of a national initiative aimed at reducing the number of workers who are killed or seriously injured on England's motorways and major A roads.
Last year saw the highest number of serious injuries among incident response teams for six years, with ten road workers suffering major injuries across England. Overall, eight workers died and 317 were injured while working on or near motorways and major A roads in the five years between 2009 and 2013.
A mock car accident was set up inside the Highways Agency's depot in Penrith today to show how road workers and the emergency services work together in the aftermath of a crash, rescuing people from vehicles and making the motorway safe.
Cumbria Fire & Rescue Service and the Environment Agency also took part in the mock incident, which aimed to raise awareness of the dangers facing workers from passing traffic.
Roads Minister John Hayes said:
The safety of those who work around the clock to carry out vital improvements and keep drivers moving after incidents is absolutely paramount.

It is not worth putting road workers' lives at risk, let alone the tragic impact on their lives and those of their families, simply to shave a few seconds off your journey.
The Highways Agency's advice for driving safely at roadworks is simple:
Keep within the speed limit – it is there for your safety
Get into the correct lane in good time – don't keep switching
Concentrate on the road ahead, not the roadworks
Be alert for works traffic leaving or entering roadworks
Keep a safe distance – there could be queues in front
Observe all signs – they are there to help you
Footage has also been released to highlight the issue which shows:
A lorry almost crashing into a Highways Agency Traffic Officer vehicle which was attending a breakdown on the M6 near Birmingham. This was despite a red 'X' being displayed on the overhead gantry to show the lane was closed video 1
A lorry continuing in a lane where a red 'X' has been displayed on an overhead gantry and then crashing through the traffic cones protecting a maintenance crew. Video 2
The importance of safety on England's motorways and major A roads is being put centre stage during the broadcast of the documentary series The Motorway: Life in the Fast Lane on BBC2 this month. This four part documentary series, part two of which airs on Tuesday 16 September at 9pm, will illustrate what life is like for those that work, travel and live near motorways.
General enquiries
Members of the public should contact the Highways Agency Information Line on 0300 123 5000.
Media enquiries
Journalists should contact the Highways Agency press office on 0844 693 1448 and use the menu to speak to the most appropriate press officer.
Published 12 September 2014