Press release
Road safety campaign targets gritter undertakers
A new winter road safety campaign is being rolled out in the West Midlands today, warning drivers they could be putting their lives at risk if they use the hard shoulder to undertake gritters.
This news article was withdrawn on
This document is no longer current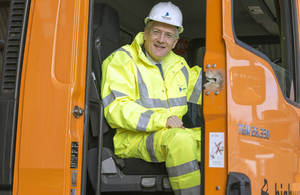 Highways England's gritter drivers have noticed a growing problem with road users veering into the hard shoulder to avoid being struck by salt, risking a collision with a stationary vehicle and causing a hazard when gritters try to come off at junctions.
The new campaign was launched today at Highways England's Coleshill depot, where Transport Minister Andrew Jones was visiting to learn more about our winter operations.
Andrew Jones said:
Transport is absolutely critical to our thriving economy which is why we need to ensure the network can cope with winter weather. Highways England will be working around the clock to keep our major roads clear.

The government is also closely monitoring resilience across road, rail and airports to ensure Britain can keep moving in the event of extreme weather.
Gritters usually travel at 40mph in the middle lane when they are spreading salt on a 3 lane motorway, treating the lane they are in and one lane on either side. Drivers are being advised to only pass a gritter when it is safe to do so, avoiding using the hard shoulder and checking for hazards ahead.
The latest statistics show that, on average, 16 people lose their lives every year as a result of collisions on hard shoulders or in laybys across England, and 45 suffer a serious injury. Drivers are being asked not to take unnecessary risks this winter to help keep the region's motorways and major A roads moving and safe.
Gritter driver Phill Cheshire, based at Highways England's Coleshill depot, said
We appreciate that nobody wants to be stuck behind a large vehicle travelling at 40 or 50 miles per hour, but in this case, it really is for the benefit of road users.

I'd ask drivers to plan their journeys properly and leave adequate time for travel this winter. I'd also urge people to stay safe and not use the hard shoulder to undertake.
More than 35,000 tonnes of salt is currently being stored at 14 depots across the West Midlands, enough to cover more than 78,000 miles of motorway – equivalent to travelling more than 3 times around the world.
Salt supplies will be topped up throughout the winter and a total of 61 gritters are also on standby in the West Midlands to start spreading salt when temperatures are forecast to dip below freezing, with drivers able to treat every metre of motorway in the region every 3 hours.
Motorists and other road users are also being asked to play their part by driving sensibly and making sure they have a winter kit in their vehicles, including an ice scraper and de-icer, warm clothes and blankets, and sunglasses to cope with the low winter sun.
Tim Harbot, Midlands Regional Director at Highways England, added:
Our gritter drivers will be out in all weather again this winter and we're encouraging road users to do their bit to help keep the region's motorways and major A roads moving.

The vast majority of people support our gritter drivers by keeping a sensible distance and only passing when it's safe to do so, but a few have been putting themselves and others at risk by using the hard shoulder to undertake gritters.

We're also encouraging drivers to make sure they've got a winter kit in their vehicle so they don't get caught out by the weather. That could be as simple as having a pair of sunglasses in the glove locker so you're not struggling to see in the low winter sun.
More details on staying safe on the roads this winter are available at the met office website.
General enquiries
Members of the public should contact the Highways England customer contact centre on 0300 123 5000.
Media enquiries
Journalists should contact the Highways England press office on 0844 693 1448 and use the menu to speak to the most appropriate press officer.
Published 26 October 2015