Press release
Road safety boost for A595 south of Whitehaven in Cumbria
Road users and pedestrians are to get a safer A595 thanks to a Highways England project to reduce the speed limit between two communities in Cumbria.
This news article was withdrawn on
This press release is no longer current.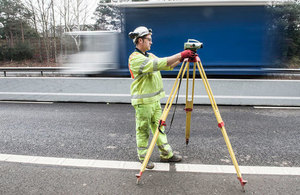 A stretch of the road between the Mirehouse Road junction south of Whitehaven and Bigrigg – just over a mile long - will be converted from a 60mph national speed limit route into a 50mph one at the end of August after work starts next week to install the appropriate warning signs.
Highways England project manager Peter Gee said:
The safety of route users, including pedestrians and cyclists, is our top priority and while we work to ensure the strategic road network can operate at national speed limits we will reduce the speed limit where appropriate.

In this case several audits of road safety in this location in recent years have suggested safety would be improved by a reduction in the speed limit from 60mph to 50mph. I am pleased to say that this will be delivered over the next few weeks.
The project to erect the road signs will start on Monday (3 August) and should be completed before the start of the late summer bank holiday weekend.
The work, at different sites along the route, will be taking place between 9.30am and 3.30pm each day with occasional use of temporary traffic signals and the work programme devised to avoid disrupting shift workers heading to and away from Sellafield.
Between 2005 and 2010 there were 32 personal injury accidents, including shunt style incidents near right turns, along the road between the junction at Mirehouse Road and Bigrigg.
The new arrangements will mean installing the 50 mph speed limit between built-up, 40mph sections of the route.
General enquiries
Members of the public should contact the Highways England customer contact centre on 0300 123 5000.
Media enquiries
Journalists should contact the Highways England press office on 0844 693 1448 and use the menu to speak to the most appropriate press officer.
Published 30 July 2015