Press release
Richard Brown appointed to the Department for Transport Board
Richard Brown CBE has joined the department's board as a non-executive member.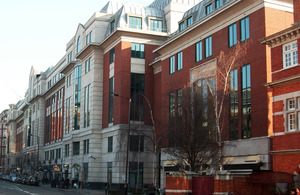 Richard Brown CBE has been appointed as a non-executive member of the Department for Transport Board by Transport Secretary, Patrick McLoughlin.
Richard was Chief Executive of Eurostar from August 2002 to April 2010 and Chairman until June 2013, and was previously Commercial Director and main Board Director of National Express Group plc, where he set up its UK Trains Division, at the time the largest UK passenger franchise operator. He has spent 36 years in the transport industry, and was a Director of British Rail's Intercity division before privatisation. He is a past President of Railteam and of the Chartered Institute of Logistics and Transport, and was twice Chairman of the Association of Train Operating Companies.
He joins lead non-executive director Sam Laidlaw and other non-executives Ed Smith, Alan Cook, Sally Davis, Mary Reilly and John Kirkland.
The appointment continues to strengthen the department's non-executive team, and provides for succession planning as Sally Davis will be stepping down at the end of 2013 after a number of years on the board.
Notes to editors
Richard Brown has been appointed for a period of 3 years from 15 July 2013 to 14 July 2016.
Richard Brown was appointed CBE in 2007. He is currently Chairman of Catalyst Housing Ltd, a board member of HS2 and Deputy President of the French Chamber of Commerce in Great Britain.
He was educated at Cambridge, University College, London, and Harvard. He is married with 3 adult children and enjoys sailing, skiing, walking and gardening.
At the Transport Secretary's request, Richard conducted an independent review of the department's rail franchising programme in 2012 following the cancellation of the Inter City West Coast franchise competition, to which the government has recently responded.
The appointment process for non-executive directors has been run according to OCPA guidelines. All appointments are made on merit and political activity plays no part in the selection process.
All appointments are made on a personal basis, rather than on the basis of affiliations.
More information about the updated protocol for departmental boards, can be found on the Cabinet Office website.
Media enquiries
Media enquiries: Newsdesk (Monday to Friday, 8am to 7pm)
020 7944 3021

Urgent media enquiries out of hours
020 7944 4292

The Department for Transport press office only deals with enquiries from the media.

If you're not a member of the media, please use the switchboard line
0300 330 3000
Published 18 July 2013