Press release
Revised charges to improve Dartford crossing
Dartford-Thurrock crossing improvements one step closer.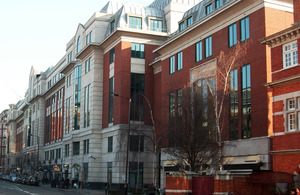 Plans to tackle congestion and deliver future improvements at the Dartford-Thurrock crossing have taken an important step forward as Road Minister Mike Penning today (22 May 2012) announced changes to the crossing charges.
The change to the charges will help deliver a package of extensive improvements. The minister re-affirmed the government's commitment to introduce free-flow charging to tackle congestion and improve journey times at the crossing. He also confirmed work continues on analysing the options for a new Lower Thames crossing, following the commitment made in the 'Autumn statement'.
The minister also announced that the Department for Transport will carry out a full review of the local residents' discount scheme to consider how this can be improved and take-up increased. He will be inviting local MPs to a meeting to discuss this shortly.
From October 2012, cash charges for car users will increase by 50 pence, with proportionate increases for other vehicles. The crossing will remain free for motorcyclists, and discounts for local residents and drivers who pay in advance will continue. Funding from the charge increase will help to pay for free-flow electronic charging - a vital time-saving device that will benefit the millions of motorists that use the crossing every year.
Road Minister Mike Penning said:
The Dartford-Thurrock river crossing is a vital piece of transport infrastructure that has brought huge economic benefits to the country. But currently it can't meet the growing demands of drivers so we need to plan properly for the longer term.

That's why we've given a commitment not only to introduce free-flow charging by the autumn 2014 but also to build a new crossing in the Lower Thames area. We have also listened carefully to what people have said about our proposals on charging, which is why charges will not increase until later this year. The proceeds will help us prioritise investment for much-needed improvements to capacity and journey times.
The department has published its formal response to the consultation on proposals to revise the road user charging regime at the crossing. This is part of a package of improvements to develop its performance in the short, medium and longer-term.
As part of the changes, discounts for those paying the crossing charge in advance through the electronic Dart-Tag system will remain. The enhanced discounts provided to local residents will also be retained with no changes to the levels of charges.
In October 2012 the level of cash payments at the crossing will increase from £1.50 to £2 for cars, from £2 to £2.50 for 2 axle goods vehicles, and from £3.70 to £5 for heavy goods vehicles. A second increase will be made at the point that free-flow charging is introduced - currently forecast as October 2014 - to £2.50 for cars, £3 for 2 axle vehicles and £6 for heavy goods vehicles.
The department has published its formal response to the crossing charges consultation.
Notes to editors
A road user charge has been collected at the crossing since 2003 using powers in the Transport Act 2000 with the purpose of managing the high demand for use of the crossing. The Transport Act 2000 also provides that revenues from a road user charge must be spent on transport.
The current charges have been in place since November 2008, which was the first time they were revised since their introduction as a road user charge in 2003. They are set out in the A282 Trunk Road (Dartford-Thurrock Crossing Charging Scheme) Order 2008 (Statutory Instrument 2008/1951).
Changes to some elements of the charging regime require the making of a new charging order in accordance with the procedural requirements set out in Trunk Road Charging Schemes (Bridges and Tunnels)(England) Procedure Regulations 2001 (Statutory Instrument 2001/2303).
The revised charge rates are set out in the table below:
Dartford crossing day charges (6am to 10pm)
Note: no charges apply 10pm to 6am
| | | | |
| --- | --- | --- | --- |
|   | Current | Change 2012 (October) | Change 2014 (October) |
| Motorbikes | Free | Free | Free |
| Cash charge |   |   |   |
| Cars | £1.50 | £2 | £2.50 |
| 2 axle goods | £2 | £2.50 | £3 |
| Multi axle goods | £3.70 | £5 | £6 |
| Dart-Tag charge |   |   |   |
| Cars | £1 | £1.33 | £1.67 |
| 2 axle goods | £1.75 | £2.19 | £2.63 |
| Multi axle goods | £3.20 | £4.33 | £5.19 |
The introduction of free-flow charging at Dartford is being progressed to the following timescale:
Summer 2012, start procurement process for customer charging and enforcement management services contract.
Autumn 2012, start public consultation on secondary legislation.
Winter 2012/13, invite tenders for customer charging and enforcement management services contract.
Summer 2013, Statutory Instrument laid before parliament.
Autumn 2013, contract award of customer charging and enforcement management services.
Summer 2014, technical go-live, controlled testing and integration.
Autumn 2014, full operation of free-flow charging at Dartford.
Related documents
Published 22 May 2012