Press release
Revamped website collects consumer cross-border complaints
Consumer protection agencies from 34 countries today unveiled an improved complaints site to aid international co-operation.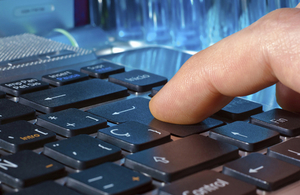 The countries, which are all part of the International Consumer Protection and Enforcement Network (ICPEN), have joined the US Federal Trade Commission-led project to launch the improved version of econsumer.gov to help law enforcement authorities gather and share cross-border consumer complaints that can be used to take action against unlawful practices.
ICPEN is an international network of consumer protection authorities that aims to protect consumers' economic interests around the world by sharing information about cross-border issues and encouraging global co-operation among law enforcement agencies.
The Federal Trade Commission (FTC) unveiled the updated website during the ICPEN Best Practice Workshop, which is being held from October 13 to 15 in Manchester. Hosted by the Competition and Markets Authority (CMA), which currently holds the presidency of ICPEN, the workshop brings together investigators from agencies around the world to share and develop their enforcement experience and skills.
Nisha Arora, ICPEN President and CMA Senior Director, Consumer, said:
Increasingly, consumers buy goods and services from around the globe, so the econsumer.gov website is a valuable means of detecting and combating unlawful practices that are occurring across national boundaries.

I encourage anyone who has encountered a problem that crosses national borders to send the details to econsumer.gov.
econsumer.gov originally launched in 2001. The improved website, which is available in 8 languages, is easier to use, and is reader-friendly on tablets and smartphones. It also has an updated complaint form and provides information for consumers on additional steps they can take to resolve their complaints, along with complaint trend data and consumer news from ICPEN members. Complaints are shared between participating consumer protection agencies around the world to help them spot trends and work together.
Consumer complaints filed through econsumer.gov are entered into a secure database and shared with consumer protection law enforcers that are members of ICPEN and have signed a confidentiality agreement.
Notes for editors
The CMA is the UK's primary competition and consumer authority. It is an independent non-ministerial government department with responsibility for carrying out investigations into mergers, markets and the regulated industries and enforcing competition and consumer law.
The CMA took up the presidency of ICPEN in July 2015 and will hold it until June 2016.
Enquiries should be directed to Simon Belgard (simon.belgard@cma.gsi.gov.uk, 020 3738 6472).
Other complaints databases are:
ECC-Net is the network of European Consumer Centres (ECC) which provides EU consumers with advice on their rights when they are in dispute with traders in other EU countries. The service provides advice, information, and support. With counterpart offices in most European countries the UK ECC is often able to contact the trader through them, thereby avoiding the logistical and language difficulties consumers often face. However, ECCs are unable to take enforcement action. The UK ECC is run by the Chartered Trading Standards Institute, and co-funded by the Department for Business, Innovation and Skills and the European Commission.
The Citizens Advice consumer helpline is a telephone, email and online service offering information and advice to consumers where they have a problem with goods and services in the UK. The helpline advisers can give consumers practical and impartial advice on how to resolve consumer problems, explain which law applies to the consumer's situation, and pass information about complaints onto Trading Standards. However, advisers cannot make a complaint for a consumer or take legal action on their behalf. The database of complaints made to the helpline is used as a source of intelligence by Trading Standards, the CMA, and other enforcers in the consumer landscape.
Published 13 October 2015