News story
Restorative justice past and future
As restorative justice week comes to a close we spoke to the Restorative Justice Council and took a look back at the incredible growth of the restorative justice movement, and forward to its bright future.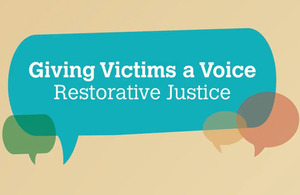 The Restorative Justice Council (RJC) tell us that in just 10 years they have seen attitudes to restorative justice change dramatically in the UK. It is no longer seen as "soft and fluffy" but has become an integrated part of the criminal justice system.
It was in the late 1990s when restorative justice started to gain credibility in this country when Sir Charles Pollard, introduced restorative justice as an effective policing tool while he was chief constable of Thames Valley Police. From this point the use of restorative practices really picked up momentum and we haven't looked back.
Initial funding
The government's investment of £7m in a seven year research programme examining the impact of restorative justice on adult offenders convicted of serious crimes highlighted the benefits to both victim satisfaction and reducing reoffending rates. This was crucial in providing budget holders with the evidence they needed to invest in restorative justice services.
In 2010, the MOJ committed to integrating restorative justice across the criminal justice system in its paper "Breaking the cycle". This was quickly followed by new legislation for pre-sentence restorative justice and the Ministry of Justice's action plan to increase awareness of restorative justice and enable more victims across the country to access a high quality service.
Looking to the future
The RJC say how great it is to look back and see how far it's come – restorative justice is at last recognised as something worth investing in to deliver better outcomes for the public. Restorative justice id part of the fabric of British society, no longer just a fringe idea or activity.
The future for restorative justice is looking brighter than ever and supported by continued investment from the government with at least £29million is being made available to Police and Crime Commissioners and charities to help deliver Restorative Justice for victims over the coming three years.
Our vision for the future is simple - we want to grow capacity, quality, awareness and demand. We also want restorative practice to be the normal way of dealing with crime and conflict across society and for everyone to have access to safe, effective, quality restorative justice.
Published 22 November 2013