Response to Telegraph story on the 'erosion' of childhood
The Children's Minister comments on concerns raised by the Daily Telegraph on Saturday 24th September.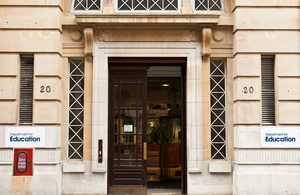 The Telegraph ran a story on 24th September when 200 academics, teachers, authors and charity leaders wrote to the Telegraph claiming that:
the 'erosion' of childhood has increased apace over last few years
children are exposed to 'too much, too soon'
children are subjected to too many commercial pressures
children start formal education younger than norm in Europe.
Children's Minister Sarah Teather said:
The recent report from UNICEF brought into stark focus the pressure on childhood in the UK. We share these concerns - children should be allowed to be children.

Business and regulators are leading the way by implementing recommendations from Reg Bailey's review to help tackle the commercialisation and sexualisation of children.

More broadly, we know that supporting strong, stable families is one of the best ways we can give children a happy childhood. We want mums and dads to be able to balance work and family life, that's why we are extending parental leave and rights to flexible working. For those who want a bit more advice and information on parenting, we will shortly be trialling an offer of parenting classes in some areas. We are also reforming the early years curriculum to simplify the number of targets children are assessed against at five, as well as placing more emphasis on getting children ready for school - ready to make friends, listen and share, and say what they think.

Government can only do so much. As a society, we all have a stake in making sure there is time for family life and children are free to cherish their childhoods.
DfE enquiries
Central newsdesk - for journalists 020 7783 8300
General enquiries - for members of the public 0370 000 2288
Published 26 September 2011