News story
Response to consultation on alcohol indicator published
Report concludes that a new indicator for alcohol-related hospital admissions will give a more reliable measure of trends.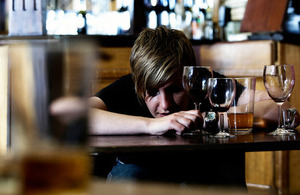 Public Health England (PHE) has published a summary of the responses to the 2012 consultation on measuring alcohol-related admissions to hospital.
A consultation was carried out last year by PHE, the Department of Health and the Health and Social Care Information Centre about the methods used to estimate alcohol-related admissions to hospital. The consultation was driven by an improved understanding of the methodological issues associated with measuring alcohol-related admissions and, linked to that, the need to include the best available indicator on alcohol-related admissions in the Public Health Outcomes Framework (PHOF).
Conclusions of the consultation are that:
The current method of measuring alcohol-related hospital admissions using primary and secondary diagnosis fields will continue to be published, which gives a measure of the broader impact of alcohol on hospital services. This provides local areas with useful information on the wider impact of alcohol on the health of their population and to evaluate their prevention and treatment response.

This broader measure will be supplemented by a new measure which uses primary diagnoses plus mentions of alcohol-related external causes in secondary diagnosis fields. This gives a more reliable measure of trends in alcohol-related hospital admissions and will be used in the PHOF.
Professor John Newton, PHE Chief Knowledge Officer, said:
Alcohol is one of the leading risk factors for ill-health and causes premature death. If we are to help people lead longer, healthier lives then we need to be able to measure the impact of alcohol consumption on individuals, communities and wider society, so that we understand where attention is most needed. The new Public Health Outcomes Framework indicator on alcohol-related hospital admissions will capture the progress made by local authorities and their partners in reducing alcohol-related ill-health.
To view the report and for alcohol-related intelligence please visit the Local Alcohol Profiles for England web page (www.lape.org.uk)
For queries, please email KITNorthWest@phe.gov.uk.
Published 13 November 2013