News story
Reserves minister visits British troops on exercise in Poland
The Minister for Reserves, Julian Brazier, has today, 2 September, visited British troops taking part in Exercise Sabre Junction in Poland.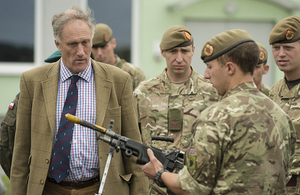 Eighty personnel from 1st Battalion The Duke of Lancaster's Regiment are participating in Sabre Junction alongside the US Army and other NATO allies.
The exercise aims to build joint expeditionary capabilities and prepare NATO forces for future worldwide contingencies where they could be expected to rapidly adapt in order to fulfil a variety of roles in a range of situations.
As part of NATO's immediate assurance measures to the region, the exercise began on 14 August and includes airborne operations and seizures of notional enemy airfields.
Mr Brazier said:
On meeting British and American troops taking part in Exercise Sabre Junction, I was struck by how seamlessly allies and partners can work together at little notice to form one formidable force.

I was also particularly impressed with the opportunities an alliance such as NATO can bring, with the exercise highlighting to me how knowledge, equipment and capability can be successfully shared between multiple stakeholders in a timely fashion, to the benefit of all.
Sabre Junction is an annual exercise which is held across Germany, Latvia and Poland and this year includes around 5,000 personnel from the US, Bulgaria, Canada, Croatia, the Czech Republic, Estonia, Italy, Latvia, Lithuania, Poland, Romania, Slovenia and NATO Partnership for Peace nations Bosnia and Herzegovina, Serbia and Sweden.
Published 2 September 2014