Rescue of hostages held in Afghanistan
British aid worker Helen Johnston was rescued last night along with a Kenyan aid worker and two Afghan aid workers following their abduction on 22 May.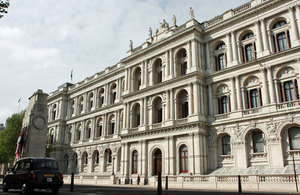 Confirming the rescue, a Foreign Office Spokesperson said:
"We are pleased to confirm that last night, Helen Johnston, a British aid worker, Moragwa Oirere, a Kenyan aid worker, and two Afghan aid workers who were abducted in Badakhshan Province in North East Afghanistan on 22 May, were successfully rescued.
"All four individuals work for Medair, a humanitarian Non-Governmental organisation based in Switzerland. They are all now safe. Helen and Moragwa are receiving support from British Embassy staff in Kabul. The two Afghan aid workers are returning to their families in Badakhshan.
"Staff from the FCO remain in close contact with Helen's family who are understandably hugely relieved at this news. We are also in touch with Moragwa's family and with the Afghan and Kenyan governments, and Medair have been in close contact with the families of the Afghan aid workers.
"Helen and her colleagues were rescued by ISAF forces, including UK forces, in a carefully planned and coordinated operation. This operation was ordered by the Commander of ISAF and was authorised by the Prime Minister. We pay tribute to the bravery of the coalition forces which means that all four aid workers will soon be rejoining their families and loved ones. We have worked closely with the Afghan authorities throughout and we would like to thank them for their support."
Published 2 June 2012