Repossessions hit 2-year low
The number of home repossessions have hit a 2-year low, according to new figures published today (14 September 2010).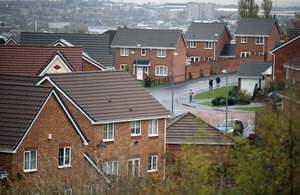 The Financial Services Authority report there were 9,978 repossessions between April and June this year - 5% lower than the previous quarter and the lowest since the first quarter of 2008.
The number of new cases of households in arrears has also continued to fall - there were 37,200 new cases between April and June this year, 8% lower than the first 3 months of 2010 and 27% lower than the same period in 2009.
Housing Minister Grant Shapps said:
"I am encouraged by the fall in repossessions reported today by the Financial Services Authority. But with nearly 10,000 homeowners losing their homes over the past 3 months, I would urge all those with mortgage worries to seek early advice and speak to their lenders, and would expect lenders to have exhausted every possible option to help their customers before seeking repossession.
"Free help is available either online, or from organisations like Shelter and Citizens Advice. And for anyone facing the real and frightening prospect of repossession, the Mortgage Rescue Scheme and Homeowners Mortgage Support Scheme remain available as a last resort.
"But the most effective thing the government can do for homeowners is to avoid the need for rapid increases in interest rates, which is why we are taking measures now to start tackling the record deficit."
Published 14 September 2010