News story
Report on Post Office mutualisation
The proposals in the report by Co-operatives UK, the trade association for co-operative enterprises, would give the local owners of Post Office…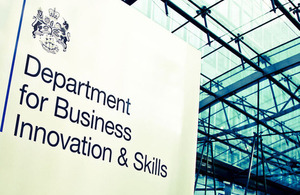 The proposals in the report by Co-operatives UK, the trade association for co-operative enterprises, would give the local owners of Post Office branches - the subpostmasters - together with employees, charities, customers and local communities, a much greater say in how the network is run.
In recent months Co-operatives UK have been seeking views from the National Federation of SubPostmasters, retailers, business organisations and a range of experts. They examined employee owned mutuals like John Lewis and customer owned mutuals like the Co-operative Group, and concluded that a hybrid of these two structures would work best for Post Office Ltd.
Co-operatives UK's Secretary General, Ed Mayo said:
"We want to see a first class not a second class Post Office. A mutual, rather than a state-owned, Post Office is one way to achieve that, because over time it can let the people who have the greatest interest in the network share in its success. We welcome the imagination that the Government has shown, but also the understanding of Ministers that this needs careful design and open consultation to succeed.
"Co-operative businesses, for example, are thriving at present, but in itself being a mutual is not enough. You need to find ways to use the model, with its dispersed ownership, ethical values and opportunities for commitment and loyalty, to create commercial and social advantage. With input from all the key interested parties, we have therefore identified a model for how Post Office Ltd, now owned by the state, can become the Post Office Mutual, operating in the public interest."
Minister for Postal Affairs Edward Davey said:
"I welcome this comprehensive report - it paints an exciting picture of what a mutualised Post Office Ltd could look like.
"A radical shakeup to combine elements of John Lewis and Co-operative Group's ownership arrangements would give those who know the Post Office best - subpostmasters, franchise partners, staff and the communities they serve - a real say in how the Post Office is run.
"Mutualisation will only work if the key parties involved want to make it happen and believe it to be the best way forward - it is not something which can be imposed from above by the Government. So we will carefully consider this report before launching a public consultation later this year so that everyone can have their say."
Ministers are concerned that the Post Office is being held back by the current structure of Post Office Ltd, the Government owned company that develops and provides products and services which are delivered through the UK's 11,500 Post Office branches.
There is often tension between the interests of the Post Office Ltd and privately owned local branches which make up 97% of the network. For example, subpostmasters are pitted against Post Office Ltd when they negotiate annual pay rates. And they fear Post Office Ltd expanding online because they worry it will drive customers away from their stores and that they won't share in the profits.
Ministers believe that transferring ownership of Post Office Ltd - not the privately owned individual branches - to a mutual could better align these interests and help secure a positive future for the network. Last year the Government asked Co-operatives UK to explore the proposal in detail.
Co-operatives UK's key recommendations are:
The Post Office would be owned, ultimately, by its members

Those delivering the service, such as employees and subpostmasters, and representatives of those receiving the service - such as consumer, charitable and community groups - should all have the chance to become members of the Post Office mutual

The option of every Post Office customer being allowed to become a member of the network should stay open, but may not be cost-effective, in terms of governance arrangements, for the first phase of operation

The Post Office should still be run on a day to day basis by a Board of Directors and Non-Executive Directors. But this Board will be answerable to and appointed by a forum that is representative of the members

Government has a key role to play, not least in supporting the delivery of public services through the network, but it should not be a member or owner. Its relationship should be a contractual and/or regulatory one

The core purpose of the Post Office is to operate for the public benefit and this should be entrenched, with legal safeguards, for perpetuity.
The Government is clear that before any changes can be made, the network will need to be put on a more secure financial footing, so that a mutual could build from solid foundations. It believes it is realistic for the Post Office to be in mutual ownership by the end of this Parliament and will conduct a full public consultation later this year. There are protections in place in the Postal Services Bill to ensure that a mutual Post Office will always be run for the public benefit.
Last year the Government announced £1.34 billion of funding for the Post Office, to maintain and modernise the network. Mutualisation would not prevent the Government from providing further funding in the future.
---
Notes to editors:
---
Co-operatives UK's report is available here www.uk.coop/postoffice**

Co-operatives UK commissioned a team including Mutuo to work with all relevant interest groups in writing this report and developing its recommendations.**

The Postal Services Bill, which is currently being scrutinised and debated by the House of Lords, includes provisions for two alternative ownership structures of Post Office Ltd: either Government continuing to hold 100% of the shares or the Post Office being reconstituted as a mutual that is run in the public benefit.**

The Government wants to build a sustainable future for the Post Office network. It is clear that the Post Office is not for sale, and that there will be no programme of closures. It is providing £1.34 billion of funding for the Post Office, to maintain and modernise the network. This funding should enable the Post Office to improve its customer service, improve its infrastructure and better compete for new business to sustain this unique national asset. In return for the funding Post Office Ltd must ensure that a network of at least 11,500 branches is maintained, as well as ensuring that access criteria are met.
5. Current ownership model:
Post Office Ltd is 100% owned by the Government.
Around 370 Post Office branches are directly managed by the central holding company POL. These are called Crown Offices.
The remaining branches across the 11,500 branch network are managed on an agency basis either by subpostmasters or franchise partners. Franchise partners include Tesco, SPAR and Londis.
Although a nominated person the "subpostmaster" makes the application and provides the business plan - branches have a variety of different ownership structures.
Individual retail entrepreneurs run the greatest number of branches - however, it is estimated that around 1000 individual Post Offices are run by either a mutual body or a member of a mutual body.
This includes approximately 525 Post Offices in Co-op branches, approximately 200 in Costcutter stores, 240 in NISA stores and 150 in community run shops.
Subpostmasters are not POL employees, but instead have a contract with POL to provide services using their own premises and staff. Generally, subpostmasters receive a fixed payment from POL; this is topped up by a variable payment based on the number of transactions they carry out. Most subpostmasters run their post office business under the same roof as another retail business. In urban areas this is often a newsagent or stationery business. In rural areas it is typically a village shop.
6. Possible future mutual model recommended by Co-operatives UK:
There are many different types of mutual structure - any final structure for the Post Office mutual would be subject to public consultation. What follows is an outline of what the structure suggested by Co-operatives UK would look like.
A mutual body - for example a company or co-operative - would be set up and those with an interest in the Post Office could become its members. The Government would then transfer ownership of Post Office Ltd to that body.
Members, via a representative body, could then have a say in appointing the Board of Post Office Ltd, agreeing its long-term strategy and sharing in its profits.
The Government would ensure there are clear safeguards in the constitution of that mutual body, protecting the interests of the Post Office. For example, the mutual would have to act for the public benefit by promoting the use by the public of Post Office services (rather than short-term profit-taking). And it would not be able to sell its shares in Post Office Ltd. These protections would be set down in legislation. Further legislation would also be required for any demutualisation.**
All of the experts on mutual ownership the Government has consulted have stressed that, for a mutual to work, all interested parties need to agree on the structure adopted. The structure must develop organically rather than be imposed by a "command and control" central Government. So Government will hold a full public consultation before agreeing any final structure for the Post Office mutual. **
Co-operatives UK works to promote, develop and unite co-operative enterprises. It has a unique role as a trade association for co-operatives and its campaigns for co-operation, such as Co-operatives Fortnight bring together all those with a passion and interest in co-operative action. For more details see www.uk.coop**

BIS'**s **online newsroom contains the latest press notices, speeches, as well as video and images for download. It also features an up to date list of BIS press office contacts. See [http://www.bis.gov.uk/newsroom](http://www.bis.gov.uk/newsroom) for more information.
Notes to Editors
Contact Information
Name BIS Press Office Job Title
Division COI Phone
Fax
Mobile
Email NDS.BIS@coi.gsi.gov.uk
Name Joe Upton Job Title
Division Department for Business, Innovation and Skills Phone 020 7215 5959 Fax
Mobile
Email Joe.Upton@bis.gsi.gov.uk
Published 18 May 2011