Report of the Human Rights Council on Syria
The latest report of the Human Rights Council mandated Commission of Inquiry into human rights violations in Syria was published today.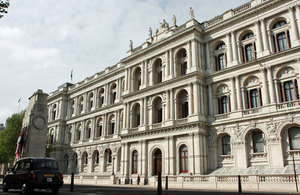 Foreign Office Minister Alistair Burt said:
"I welcome the Commission's report today. Its conclusion is damning: Syrian forces have committed crimes against humanity and other gross human rights violations with the apparent knowledge and consent of the highest levels of state. The names of suspected individuals have been handed to the UN High Commissioner for Human Rights. Those responsible for these terrible atrocities should be in no doubt that they will be held to account for their crimes.
"I am appalled by the evidence that young children are being targeted by snipers, and that security forces continue to arrest and torture wounded patients in State hospitals. I am also very concerned at evidence of abuses by the Free Syrian Army, though the report makes clear these are on a far smaller scale than the widespread and systematic violations by the Syrian authorities. I call on all Syrians to respect human rights standards, end the violence immediately and ensure neutral and impartial access for humanitarian organisations to deliver desperately-needed supplies and medical care.
"The UN's work in this area is crucial in ensuring that all Syrians understand that their actions have consequences and that there will be a day of reckoning for those guilty of violations and abuses. We will be working closely with them and other international partners in the coming weeks to ensure that this happens."
Published 23 February 2012