Press release
Reminder to smallholders about minimum claim size
The Rural Payments Agency is reminding smallholders in England they are rapidly approaching a key deadline to decide what approach to take to important EU rule changes.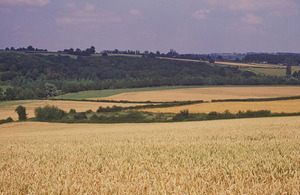 Around 18,000 Single Payment Scheme (SPS), claimants have less than five hectares and / or five entitlements and may wish to consider transferring entitlements to another farmer before midnight on 21 October as they prepare for the introduction of the new Basic Payment Scheme (BPS).
They will also be able to transfer BPS entitlement next year by using the new CAP Information Service. Customers will need to register on the system to do this and will be able to do so once they receive a registration pack.
RPA External Relations Director Arik Dondi said:
We are rapidly approaching a key date for anyone currently claiming the Single Payment Scheme (SPS) who has less than five hectares of land and / or five entitlements and it is important they make decisions in preparation for the 2015 BPS payment.

If they do not need to transfer their SPS entitlements before the October 21 deadline, they will either have to wait until early 2015, when they have been converted to BPS entitlements, to transfer them to another farmer once they have registered on the new system, or consider buying more land and entitlements to meet the minimum claim size requirements of the new scheme.

We are working together across Defra to ensure people understand how CAP Reform will affect them, what they need to do and when, and how to get more information. We have been working with farm advisors and stakeholders to create awareness of this date but feel it is important we continue to remind people.
The Agency has written to those customers who do not currently meet the minimum claim size requirements about the changes and deadline but they will not receive any further CAP publications and information directly from us. They will need to contact the RPA to advise their circumstances have or will change if they wish to apply for BPS or transfer BPS entitlements. The Agency will then send them further updates. All CAP information will still be available to them on www.gov.uk/cap-reform.
RPA Press Office
RPA Press office
North Gate House,
Valpy Street,
Reading,
RG1 1AF
This telephone number is for press calls only. Please see above for helpline / main switchboard.
Published 16 October 2014