World news story
Remembrance Sunday Commemoration Service in Pristina, Kosovo
Wreaths were laid at the UK memorial bearing names of the fallen in Kosovo since 1999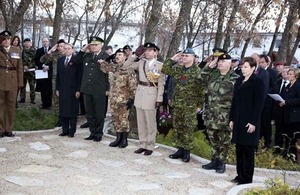 On Sunday 10th November 2013, Her Majesty's Ambassador Pristina, Mr Ian Cliff, led the annual British Remembrance Sunday commemoration in Kosovo at a short service held in HQ KFOR, Film City. The ceremony was held at dusk in front of the memorial stone which bears the names of 14 British and Commonwealth soldiers who lost their lives whilst serving in Kosovo since 1999.
The service was led by Heather Henshaw, a member of the Anglican Church community in Skopje. Appropriately, Lieutenant Commander Andrew Goggin, a Canadian officer attached to HQ KFOR, recited the moving poem, 'In Flanders Fields', written in 1918 by Canadian military physician John McCrae. During the laying of the wreaths, retired Canadian infantry officer and bagpiper Johathan Ferraby played the moving Scottish lament 'Flowers of the Forest'. Resplendent in his full Canadian Scottish regalia, this added to the poignancy of the event, supported by the playing of the Last Post and Reveille by a trumpeter from the Band of the Kosovo Security Force.
Ambassador Cliff laid a wreath on behalf of the British people supported by the Defence Attache, Lieutenant Colonel Richard Parry whose wreath was on behalf of the British Armed Forces. Other wreaths were laid by Commander KFOR, Major General Salvatore Farina and the Canadian and Irish Republic KFOR contingent commanders Lt Col Jean Mallais and Col Bill Harrington respectively. The many KFOR soldiers present were able to remember their colleagues serving on another NATO operation in Afghanistan where many soldiers and officers have lost their lives in the recent conflict. Commander Kosovo Security Force, Lieutenant General Kadri Kastrati, laid a wreath on behalf of Kosovo. The US Ambassador in Pristina, Ms Tracey Jacobson, laid a wreath on behalf of the United States of America.
Published 12 November 2013