World news story
Remembrance Day Service
The annual Remembrance Day Service at the British Embassy in Bangkok will be held at 10:50am on Sunday 10 November 2013.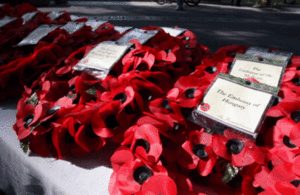 The Remembrance Service commemorates the British, Commonwealth and Allied personnel who lost their lives in the two World Wars of the 20th century and in other conflicts since. If you would like to attend, please email to Remembrance.Bangkok@fco.gov.uk by 7 November. Please include the full names of all those who are planning to attend. You will then be sent further information.
Sale of poppies
Poppies will be on sale for members of the public at the British Embassy (Wireless Gate) from Friday 25 October until Monday 11 November 2013.
The Royal British Legion's 2013 Poppy Appeal
Each year the nation expresses its unequivocal support for The Royal British Legion's work through the Poppy Appeal. The Royal British Legion's Poppy Appeal 2013 will kick off with a pop concert for Armed Forces families at RAF Northolt on Thursday 24 October. The Poppy Appeal is one of the nation's largest and most loved fundraising campaigns in support of the British Armed Forces community. Up to 2,500 tri-Service personnel, their partners and children will join the Legion to launch the Poppy Appeal, which this year focuses on support for Armed Forces families.
History of the Poppy Appeal
On the eleventh hour of the eleventh day of the eleventh month in 1918, the First World War ended. Civilians wanted to remember the people who had given their lives for peace and freedom. An American War Secretary, Moina Michael, inspired by John McCrae's poem, "In Flanders' Fields", began selling poppies to friends to raise money for the ex-Service community. The Legion adopted the poppy for its fundraising in 1921 - and so the tradition began.
Poppy Factory In 1922 Major George Howson, a young infantry officer, formed the Disabled Society to help disabled ex-Service men and women from the First World War. Howson suggested to the Legion that members of the Disabled Society could make poppies, and the Poppy Factory was subsequently founded in Richmond in 1922. The original poppy was designed so that workers with a disability could easily assemble it and this principle remains today.
Further information
Follow British Ambassador Mark Kent on twitter @KentBKK
Follow the British Embassy Bangkok on Twitter, Facebook
Published 4 October 2013