World news story
Remembrance Day Ceremony in Bamako
British Embassy and contingents organised an official ceremony at the christian cemetery in memory of those who died in the line of duty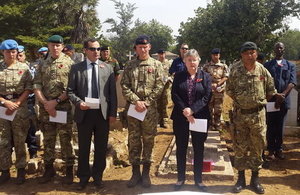 Remembrance Day is a memorial day observed to remember all those who have died in world war 1 and 2 and more recent conflicts.
At the occasion of this year's Remembrance Day, the British Embassy in Bamako with the collaboration of the British contingent of European Union Training Mission team based in Koulikoro (EUTM Mali) and in The United Nations Multidimensional Integrated Stabilization Mission in Mali (MINUSMA), organised an official ceremony at the Christian Cemetery in Bamako Coura. It was attended by Ambassadors, military personnel based in Mali and many civilians including Malians who also lost relatives in these conflicts.
Ambassador Joanne ADAMSON OBE gave a speech to honour the memory of those who gave their lives to defend their beliefs and their country. The ceremony included prayers and readings, one John McCrae's war poem "In Flanders field", wreaths were laid and a two minute silence was observed and the last post was played.
Published 10 November 2015