Prime Minister David Cameron offers 'deepest sympathy' on 15th anniversary of Srebrenica massacre as Baroness Warsi attends ceremony.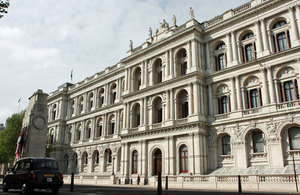 Speaking on the occasion of the 15th anniversary of the genocide, in which over 8000 people were killed the Prime Minister said:
"Today marks the 15th anniversary of the massacre at Srebrenica, in which over 8000 Bosnian men and boys were killed as they fled for their lives through the forests.
Even today, the remains of many of the victims are undiscovered and unidentified, their families still searching for closure.
To all those who lost loved ones, I offer my deepest sympathy on this anniversary.
We must never forget the act of genocide that happened at Srebrenica. It was a crime that shamed Europe.
We owe it to the victims to learn the lesson of Srebrenica: that evil must be confronted if humanity is to be protected. We owe it to the victims to ensure that those indicted for this appalling crime are pursued relentlessly until they are brought to justice.
The British Government I lead will not rest in its efforts to make sure that Ratko Mladic is brought to the International Criminal Tribunal at the Hague, alongside other fugitives like Goran Hadzic.
At the same time, we must continue to build a brighter future for Bosnia and Herzegovina and the region. We welcome recent steps towards reconciliation, such as the motion by the Serbian Parliament condemning the crimes committed at Srebrenica and apologising to the victims.
Britain's new Government will take a close interest in the region. We will work hard to enable Bosnia and Herzegovina and the whole Balkan region to move forward, and in due course to join the European Union and NATO.
But as we look to the future, we pledge never to forget the past, and to do all in our power to ensure that such an atrocity can never be repeated."
The anniversary will be marked with a ceremony in Srebrenica on 11 July. Baroness Sayeeda Warsi will represent the British government at the ceremony.
Published 11 July 2010