World news story
Regulatory reform: Vietnam's challenges and UK experience
UK experience in regulatory reform to improve transparency and accountability in government agencies are shared at a workshop held in Hanoi on 1 December 2015.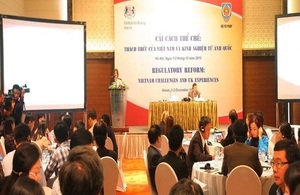 The British Embassy Hanoi and the Administrative Procedures Control Agency of the Ministry of Justice organise the workshop on "Regulatory reform: Vietnam challenges and UK experiences" to discuss Vietnam's challenges and priorities in regulatory reform to support businesses and to share UK experiences in implementing reforms in specific areas such as simplifying business reporting procedure, business licensing, and business inspection.
At the workshop, two experts from the UK's Better Regulation Delivery Office present the "one-in, two-out" model in which each UK ministry must ensure that for every pound of cost imposed on business through regulation, two pounds of cost must be removed through deregulation. The Vietnam experts also share the progress that Vietnam has made in administrative reform, and the government's future plans to facilitate reforms.
The workshop is followed by a working session to share technical expertise and in-depth experiences in regulatory reform from the UK.
Note to editors:
Better Regulation Delivery Office is a special unit in the UK Government's Department of Business, Innovation, and Skills (BIS). It is in charge of enhancing the quality and effectiveness of national and local government regulation to better achieve economic growth. The Office also engages in international work, such as providing technical assistance to overseas countries seeking to improve their business and regulatory environment to better stimulate trade and investment, including through practical tools and guidance, interactive workshops, and training. This year, it has arranged of a series of national training sessions in Indonesia, the Philippines, and Vietnam.
Published 3 December 2015