Regulator helps to create new cancer medicine facility
A brand new facility that ensures the continued supply of a critical cancer medicine forms the basis of the first case study released from the Innovation Office today at the MHRA.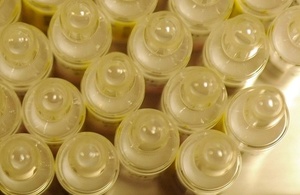 This new technology features a unique sterile manufacturing process that can help to treat patients with prostate and breast cancer.
Through offering scientific and regulatory advice to companies in the early stages of medical developments, we are able to support innovative technologies such as this one which could change the way in which medicines are developed.
MHRA Director of Inspection, Enforcement and Standards Division, Gerald Heddell, said:
We at MHRA welcome early approaches from companies who need access to expert knowledge, guidance and experience of regulatory processes. As well as being a regulator, we also recognise the importance of supporting companies in their planning processes, in order to ensure positive outcomes for public health.
AstraZeneca accessed guidance and advice from MHRA to help them successfully navigate regulatory and scientific requirements in the development of their essential new facility in Macclesfield. This helped them develop the site quickly, cost effectively and ensured the production of vital cancer medicine here in the UK.
John Parker, UK Quality Director at AstraZeneca said:
MHRA was very supportive and collaborative in their approach with us. It was essential that we had a good understanding of the regulatory expectations very early on in the process to understand the impact on design, cost and timelines in proposing the business case for the Macclesfield location. I genuinely believe that having easy access to MHRA in this manner provides a real competitive advantage to UK-based companies.
Chief Executive of the Medicines and Healthcare Products Regulatory Agency, Ian Hudson said:
We're delighted to release this case study, which is our first evidence of showing how early discussion with the MHRA can help facilitate innovation in industry, within the UK. We encourage industry to involve us early on in their thinking, through our Innovation Office.
The case study is the first in a series of case studies to be released by MHRA that were developed with the Medicines Manufacturing Industry Partnership (MMIP). MMIP, which was launched by the Association of the British Pharmaceutical Industry (ABPI) and the BioIndustry Association (BIA) earlier this year, brings the UK's medicines manufacturing industry together to create an attractive and innovation-rich environment to drive UK competitiveness, and build international recognition, in medicines manufacturing.
Background
Please see link to the case study by MHRA to coincide with the Ministerial Industry Strategy Group (MISG.) MISG, led by the Hon Jeremy Hunt MP (Secretary of State for Health) and the Rt Hon Earl Howe (Parliamentary Under Secretary for Health Quality) is a government group working together to strengthen bio-industry in the UK. www.mhra.gov.uk/innovation

Please see link to the MHRA' s innovation office for enquiries: www.mhra.gov.uk/innovation

The MHRA is responsible for regulating all medicines and medical devices in the UK by ensuring they work and are acceptably safe. Underpinning all our work lies robust and fact-based judgments to ensure that the benefits justify any risks. The MHRA is a centre of the Medicines and Healthcare Products Regulatory Agency which also includes the National Institute for Biological Standards and Control and the Clinical Practice Research Datalink . The MHRA is an executive agency of the Department of Health.
Published 26 November 2014